Being part of the SchoolHouse Review Crew, I get to hear about awesome things that are happening in the online homeschool community. One of the biggest being the SchoolHouse Expo!! All week long ~ August 19-23 ~ All for just $24!!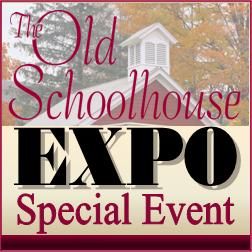 Have you ever attended a homeschool conference? What about an online conference? I have attended both, and while I like the interaction and being able to be hands on at the conferences, I really enjoyed attending the online expo. I liked being able to have the computer on and listen and learn- from the comfort of my bed in my pj's!
There are tons of great speakers this year! I am looking forward to hearing Diana Waring and Andrew Pudewa especially! There are new names and faces (new to me) that I am looking forward to hearing.
Want to know the best thing? You don't have to attend all of the sessions - they will all be recorded and as part of your registration fee, you will get a link to hear all that was discussed during this week!