Box of I.D.E.As. sent us the downloadable version of World War Two Pearl Harbor. The download is available for $49.00. Or, you can get the actual physical product for $79.00. With the physical product, you get the lessons, and the activities that go along with the lessons. Extra student modules are also available for $4 each.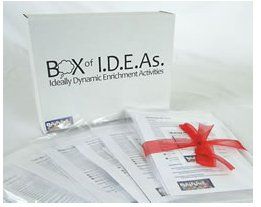 When I got the email/download, I looked over all the modules and worked them into our lesson plans. I thought the modules were broken down very well. It was a step by step of sorts learning of the attack of Pearl Harbor. Each module explained how to print things of, which was great! It let me know which pages to print on the back of other pages to make the activities work! (And if you goof that up, the activity doesn't work - don't ask how I know!) The activities are memory and matching type games. Their favorite was Go Hunt. My favorite was the one with the newspaper clippings (seen below). Using cardstock was the best route to go, and the kiddos now have a ziplock full of WWII/Pearl Harbor games - or, they will, we have almost completed all of the modules.
The kiddos have absolutely loved this curriculum. I have enjoyed it as well. We have all learned a lot about the beginning of the US joining in WWII. We have learned by using it as a stand-alone, but I can see where it would be very beneficial as a supplement.
Visit the Crew blog and check out what the others have to say about WWII Pearl Harbor.. or Salt! (I'm looking forward to reading some of those!!)
*Disclaimer: My family was given this product free of charge to use and form our own opinion of and share with our readers. The thoughts and opinions expressed about this item are strictly opinions of myself or my children.*