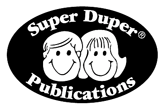 Do you like playing games with your family, that are not only fun, but make you look silly also? If so, this game is for you!
Super Duper Publications has a game called Jeepers Peepers that is hysterically funny, but also (at our house) a bit frustrating!!
First, you have to want to be silly, because you certainly can't keep a straight face while playing this game. It's fairly simple... put the huge silly glasses (they fit over my regular glasses) and then you draw a card and place it on your glasses. The object of the game is to guess what is on your card!
We play 20 questions a lot, and this was similar to that, but opposite. You can ask yes or no questions, one at a time, to lead you to what object, animal, occupation or food you had plastered on your forehead. Samantha loves playing 20 questions, and begged to play, but she would get SO frustrated! It took her a very long time to guess the octopus!
See how silly they look? We even got Roger to play, but he said *nope!* to me taking a photo! This became a fast favorite of ours. It is one that will be going with us when we go to the lake or deer woods!
The game is designed for ages K and up, and as you can see, there are some small pieces, so keep it away from the younger ones!
You can normally purchase Jeepers Peepers by visiting the Super Duper Inc. website for only $29.95, but Super Duper is running a special during the review period

they are running a special at
using

Coupon Code:

BLGJP30

Save 30% offer expires Expires 8/31/12
If you want to know what others have to say about Jeepers Peepers, please follow the Crew by using the banner below
*Disclaimer: My family was given this product free of charge to use and form our own opinion of and share with our readers. The thoughts and opinions expressed about this item are strictly opinions of myself or my children.*