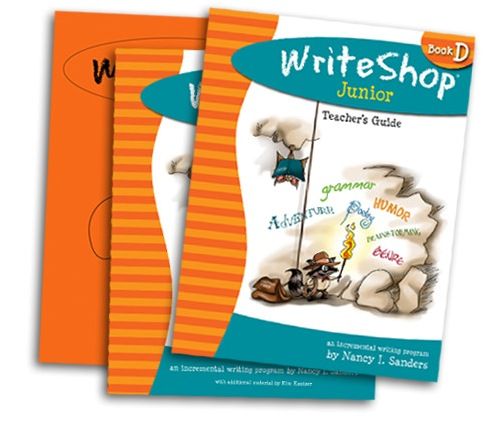 I have to admit, I was VERY confused about this when I first got the download. It took me a bit to figure out that once I extracted the original files, I still had to extract each individual lesson from the teachers guide. Once I figured that out... it was fairly smooth sailing!
By looking at the introduction, I think according to the placement testing, we are starting out with the right level. Write Shop Level D. Also, looking at the introduction, I loved how the plan/schedule is set up (although I am tweaking it just a bit to fit our schedule). One lesson spread out over three weeks... three days of work each week. Gives us our Monday, plus one other flex day.
I received three different files to download for Write Shop Level D. One was the WS Junior eBook, that is the teacher's guide/lessons. One was the Activity Pack and the last was the Time Saver Pack. Now, you would think that if you had the Activity Pack, then that would be all you need, or that the Time Saver Pack would have just what you needed in it.... As I am trying to get the first lesson in my plan book, it's not appearing that way. It appears that, even though there are some duplicates in the two packs, you still need both in order to do the lesson. This may change as I get going, and I will let you know if it does, but for now, looks like you need both packs.
This program starts off pretty smooth. This level may even been a bit basic for my kiddos, but since we are not big into writing, like- they hate it, I think it has worked fine. They loved the print-outs, and even made a game out of the Thank You Letter writing print-outs. Like I said, I loved the lessons layout they offer us, and for once, I am actually sticking with it and following their schedule, because it works.
The lessons are simple, one step at a time, type lessons. It gives them just enough to "get" something, but not so much that they are done with it before they finish. They have both finished all of the lessons we have done so far with-out complaining. We are about to wrap-up our school year, but this one will be on the lesson plans for next year and we will finish up this level of the program and will look into the next level for them.
If you have a beginning writer, or a struggling writer, I encourage you to check out Write- Shop. It looks simple and basic, but it really is working for us. Write-Shop Junior is what we used. It is currently available in book form for $39.95, or as an ebook for $34.95. There are sample pages on the website, for you to see how the program works.

*Disclaimer: My family was given this product free of charge to use and form our own opinion of and share with our readers. The thoughts and opinions expressed about this item are strictly opinions of myself or my children.*