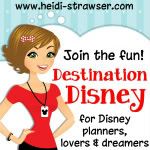 Since we went twice in one year, once with my family and then once with Roger's family, I have chosen a favorite memory from each trip to share.
June 2008 ~ we went with my parents and sister. We managed to avoid the rain the whole time we were there.. except one afternoon! A huge storm (yes, storm- thunder/lightening storm) came while we were at Magic Kingdom. Lucky us, we just happened to be in line for the TikiRoom! We stood in line and watched the rain come down.
Once the rain stopped, Chelle, Roger and I headed to Great Thunder Mountain Railroad. We stood in line there for a while, because it was still doing a bit of thunder/lightening and the park had all the rides on stand-by. There was no one in line, so we were able to ride the train 3 times in a row with out wait!
October 2008 ~ we went with Roger's parents. (we didn't avoid the rain this trip ~ we got caught in it most days) The best thing from this trip was the *after-hours* passes! We watched the parade and everyone else leave and the we headed back out for some fun! I don't remember being very many places at the park, but the main place we hung out was where Cinderella's Merry Go Round was. Something cool about after-hours~ the characters are out and roaming and social!! We rode the Merry Go Round with Donald and Pluto and Goofy. Goofy was over friendly & Pluto hung out with me once during the ride!