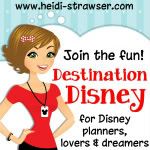 As a homeschool momma, I would have to say my favorite park is
Epcot!
I mean, it is PACKED with educational fun. Some stuff that is SO fun, they don't even know they are learning!!
Where else can you get science and geography/history all in one fun spot!
Dont' get me wrong, I love Animal Kingdom and Magic Kingdom has some pretty awesome rides and it even has a Fire Station, but I believe that if I could only go to one park, it would be Epcot!