I am a couple of weeks behind, but I am going to jump in and start with them now (I will go back and catch the first few weeks that I missed as well!) Look for my posts to show up soon!
I am going be Blogging Through The Alphabet with Marcy @
Ben & Me.
If you're interested, please click the link and go join in!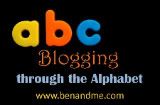 I am also going to take on this a-to-z challenge during the month of April. My plans are to use different posts, for each of the challenges! If you are interested in joining this one, please click the link below and join in!