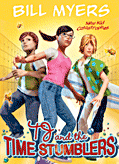 List Price:
6.99
ISBN:
978-1-4143-3453-0
Trim Size:
5 1/4 x 7 1/4
Binding:
Softcover
Release:
May 2011
This six-book series centers around two 23rd century goofballs, Tuna and Herby, who travel back in time to study TJ Finkelstein for their history project. TJ will someday become a great leader who demonstrates honesty, integrity, thoughtfulness, self-sacrifice, respect for others—all traits she hones and grasps through her adventures in this series. Unfortunately, Tuna and Herby get stuck in TJ's time (modern day), so she has to deal with their schemes while juggling the normal issues of a seventh grader who has moved to a new city, is trying to fit in, and is coping with her mother's death and her family's new life.
In New Kid Catastrophes, TJ accidentally makes an enemy of Hesper Breakahart, the superstar who attends their school. And Tuna and Herby's attempts to help just lead to one disaster after another. In the end, TJ is still very unpopular, but she learns the value of looking past appearances and gains a few friends—and the attention of the most popular boy in school.
So, I gave this book to Samantha for her to read and share her thoughts... and I waited, and waited, and waited... and she didn't get it read... So, I took it from here and I read it myself...
Since it was a child's book, it was fairly easy for me to read- quickly- and the main thing I have to say...It's a child's book! It was a cute story, was faith based and had some really good points to it. That being said, it is not one I would recommend for my adult followers. I also think that maybe Samantha struggled with it for such a time is because it was really a boy thing... I am going to pass it to Riley and see what he thinks about it!