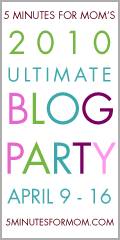 This is my first year to participate in the Ultimate Blog Party! I have recently really started focusing on my blog and keeping up to date with it and adding in other fun stuff...not just our daily, boring lives!
Welcome to my small space on the WWW!
About me: I am married to my best friend for almost 14 years. We live in the same community that we grew up in. He is a firefighter for the city not to far from here and we are both involved in our local volunteer fire department (that is also where we met!). We have 2 kiddos ~ twins ~ 10 years old. Samantha and Riley. I homeschool them. We are members of a small family oriented church here in the area as well. We are very involved in the church, attending services, bible study and other activities as they come up. Samantha is very involved in Girl Scouts - I am her troop leader. We have 10 girls in our troop and they are all the best of friends. The girls are in the process of earning their Bronze Award!! (Keep watching, details will be posted when we complete it)! Riley has been active in Cub Scouts and has recently started baseball. They enjoy being a part of and helping out at the Fire Department as well as many other avenues of volunteer work and community service.
My blog was started as a way for me to keep up with what we were doing in school each day, but has since evolved into something bigger and better! I have enjoyed reading and sharing books through reviews, I have spent the last year on TOS Homeschool Crew and I made many friends throughout the bloggy world!