We are moving on to bigger and better things - Scout things - that is....
The last week in May, Riley bridged up from a Bear Cub to a Webelos. He will go to a day camp soon and get started on his Webelos I book, working towards his progress to becoming a Boy Scout. He has a great den, in a great pack. Most of the boys in his den have been there since Tiger Cubs and they have really formed a bond together. Great friends. Here are some of Riley at his ceremony. Sorry this first one is blurry, but it was the only one I got of his crossing the bridge:
Here is him getting his neckerchief tied: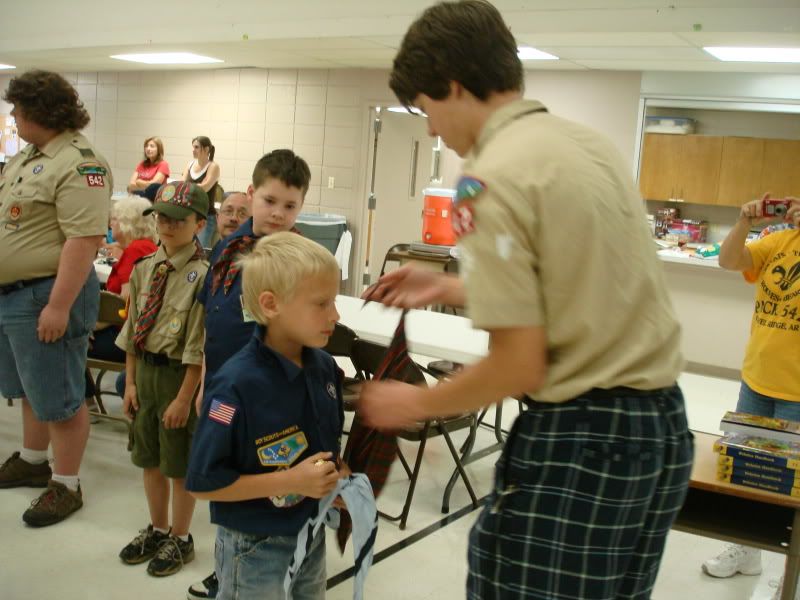 Then, this last week, Samantha and her troop bridged up from Brownies to Junior Girl Scouts. Most of her troop has been together since the beginning as well and they have become really good friend also. Her troop is planning a camp-out this summer, and the boys will be getting together a few times, but we are slowing down considerably with scouting for the summer. Here are some from Samantha's ceremony - they chose to bridge at the Old Mill (think Gone With the Wind).
Crossing the bridge: (Sorry for all of those who are in AR and know the Old Mill - there are much prettier bridges there, but this was the one they chose!)
And here is her getting pinned: