Well, today was pretty much a bust as far as anything formal goes. We had to take Chunky to his mom's first thing this morning, then had a list of errands that I needed to run. The kiddos grabbed markers and paper on the way out the door and in the process of our errands made a thank you note for a friend - that we hand delivered today, and a Halloween card for Meme, who we visited today as well. We went to my aunt's florist and Memes to 'trick or treat' there. Then we went to the library - the kiddos got joke books (I can hardly wait) and they both picked out a chapter book to read - we will see how that goes. I picked up some Thanksgiving books. We went to see the line to early vote - 2 hours, we will wait until election day thank you very much!
We were supposed to meet Donna for lunch, but we still had an hour. So, we ran to the grocery store, grabbed a few things and ran them home. I took the cold stuff and put it away, then we arrived at Firehouse Subs in time for lunch!
After lunch, we were finished with our errands so we came home and did some cleaning. Dinner was a breakfast casserole that I have re-named Dutch Oven Eggs because the way I cook it. The kiddos loved it, we ate all of it. I will share the recipe soon - it is easy and yummy!
After dinner, Donna came over. The fire department is hosting Trick or Treat and we helped her stuff bags for that. Then, she helped us do something that Samantha has been wanting to do for a while: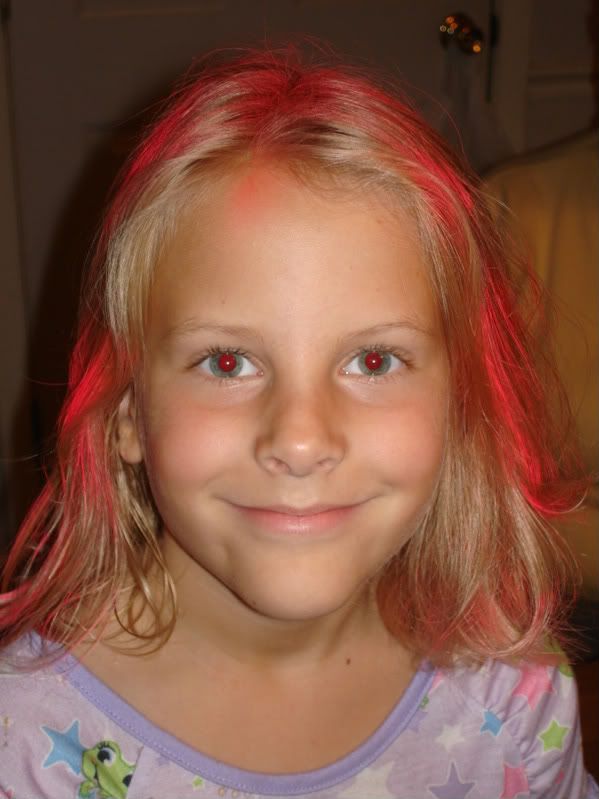 Yes folks, her hair is pink. It was the $1.88 stuff at WalMart that mostly comes out when it is brushed! She was so excited -she loves it.
Meanwhile, we were messing with her hair - here is what Riley was doing: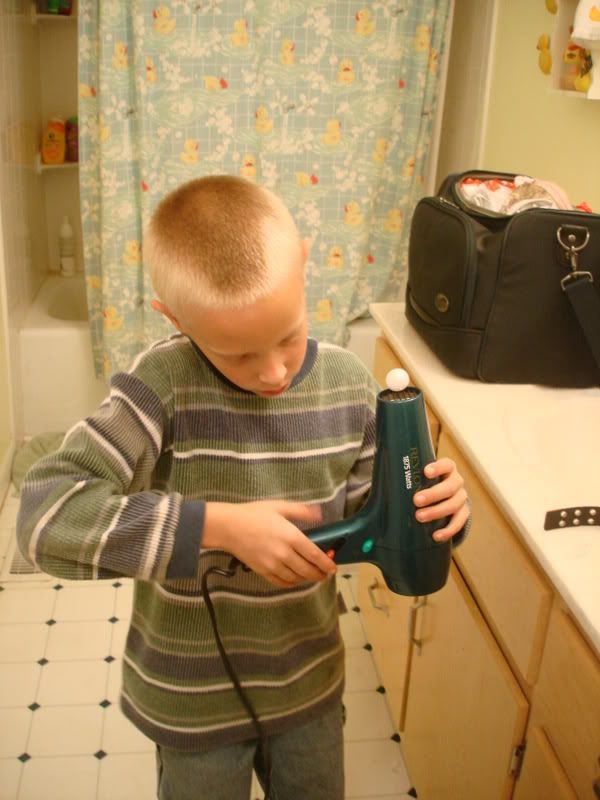 A small ping pong type ball on the blowdryer - it would only stay up for a second, but he had fun trying. And, yes, in case you are wondering - that would be our 'bathroom bag' that we take with us when we travel - almost two weeks after returning home -still sitting on the counter. Sad thing is, it is all of it is extra stuff and not being used- but it must be to hard to put away...
Time for ER, so I am outta here!