We had a very relzxed day around here! I am so proud of myself! Once we got up and around, had breakfast and took care of morning chores, they both asked about reading a book. (The fall and Halloween books have been tempting them). So, I had them both go thru and pick out a book to read - Samantha read her's quietly laying here in the floor beside me (on my heat vent might I add!) and Riley went into the other room and read his as loud as he could - I guess so I knew he was reading? I had them both get out some paper and asked them to write what the story was about. At first, they weren't sure and were wanting to copy the story (Samantha said her's had too many words to copy) So I asked her to tell me about her story -once she started talking - I stopped her and let her know that was what I wanted her to write down - LiGhT BuLb - she took off and took care of it. Once she was finished, I sat down with her and read it. I made a list at the bottom of her page of the words that were mispelled and showed her how/why I was correcting her. Riley did the same thing, did excellent on his spelling (not real sure, but I think he may have referred to the book a little more than Samantha did). After they did this, we talked about how I needed them to read EVERYDAY! and that if they could show me that they were reading EVERYDAY! then we would talk about chunking the reading program. Especially if I can get them to read something thing write me a few sentences about it - this will progress to longer books and longer works of writing. They liked that idea, so I told them we would see how things go.
We pulled out our science stuff that we needed to work on - they are liking science this year (A Reason For) it has some kind of hands on for every lesson. At that time, Roger called and said he was headed home for the day, so we waited on him and pulled out what he has been wanting to help us do - OWL PELLETS!! Here is the before,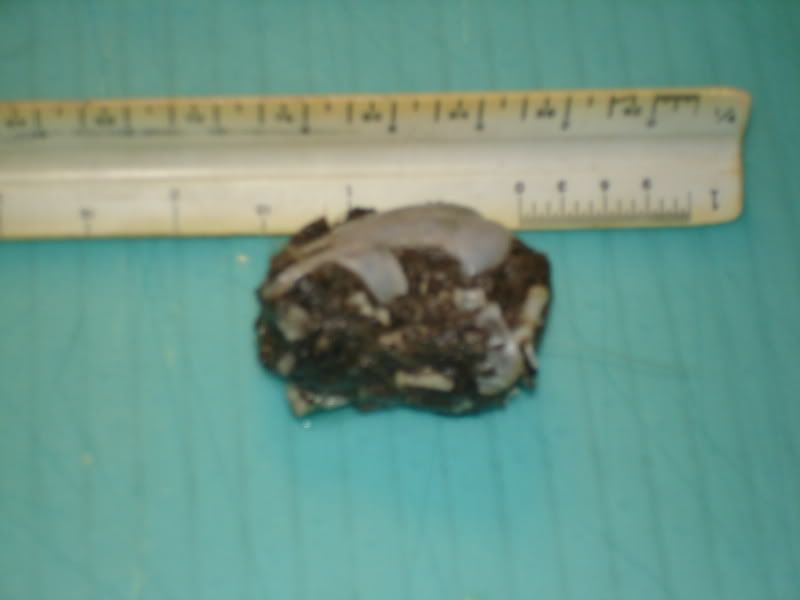 the during
and the after
pictures of the owl pellet dissection! It was really cool - the kiddos had alot of fun with it.
We picked up Em from school and they headed out to play! It was an awesome day out today. We dropped all of them at church, then went for our weekly date night dinner (complete with Roger's friends). From there, I went to church for bible study and took Em to moms.
Mom had meet up with my great aunt on Monday, for a dr appt that she had and she gave mom 2 sacks of clothes that she 'thought the girls may be interested in'. My first thought was 'seriously?' but I thought I would take them and go thru them. Oh My Goodness!! There were some CUTE clothes in there. Some really cute spring dresses... how exciting! Wanna know something even better? They fit me! I guess I will share with my sister...LOL...