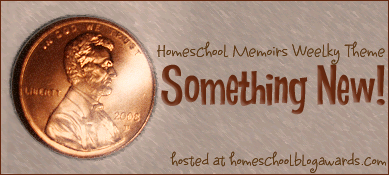 Assignment: Planning your homeschool is a lot of fun, especially if you're going to be trying something new. Just like finding a shiny new penny you're excited to use it. Mother Dear has been planning some new curriculum for us, and I am plenty excited to get started on it. This week I hope you'll share something new you're using, why you've decided to use it, and if you have used it how you like it. Make sure to include the publishing information and where you got it from so others can look into if they like
Something new this year? Hmm, let me think? We are staying pretty constant...we like our Pathway Readers, we like our Reason for Spelling and Handwriting, we LOVE our Story of the World. The only thing we have issues with is science. Last year, we used Considering God's Creation, but it was really just a one year thing. So, this year, we had to go with a new science. We have used Apologia Exploring Creation Botany and I liked it, but it was a little much for the kiddos, so we held off on that, we will probably go back to the Apologia stuff next year (my thinking was once we touch on all of the basics of science to get them thru the first round of testing this year - but come to find out, they do not test over sceince anymore - so we will be moving back to Apologia next year).
So, for this year, our new isA Reason for Science. So far, we are enjoying it. I love it because it is all planned out, right there, down to what to say. It comes with everything we need, except water and papertowels! The kiddos have loved it because there was experiments and we get to carry them out (because we have all the stuff -lol!).