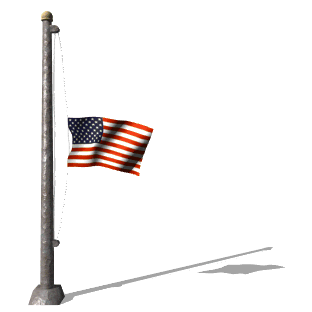 Today was Warren's funeral. It was a very long, hard and emotional day. He was a firefighter with 31 years on the job, so the family opted to do a full force firefighter funeral. Man, that was rough. There were tons of Firefighters, all in their dress blues, and they were all sad. The FD Chaplain gave a wonderful speech about how strong and courageous Firefighters are, but at the same time had hearts as soft as marshmallows. That both were qualifications of the job.
His step daughter gave the eulogy, then his pastor's wife read a tribute from his wife, about her best friend, her rock and the love of her life. Seeing all of those ff pass the casket was very hard.
As always, in a fire fighter's funeral, he was on the top of Engine 7, the engine he rode on shift. It carried him from the funeral home to the church and from the church to the cemetery. The firefighters lined up for him to be brought thru the crowd and put on the truck. There were several firetrucks, chief cars, volunteer vehicles and police cars with their lights on all the way to the cemetery.
Graveside was the hardest. The firefighters were lined up again, making a path for the pallbearers from the truck to the grave. We stepped up in line with our volunteer department. While they were carrying him down, the bagpipes were playing (I forget what song). The flag from his casket was handed to him by Chief McCall. From there the Chaplain spoke again about the bells in a FF life and they sounded the last alarm for Warren. Vary hard. Immediately from there Taps on the bugle started...once Taps was over, the bagpipes started up again with Amazing Grace. He played thru once, then turned and walked away continuing to play...fading off into the distance....