MGM
Glad we saved it for last. Wasn't too terribly impressed with it. Could have something to do with the fact that it was STAR WARS Weekend and we are NOT Star Wars fans - sadly, I have never seen the movie. Well, I am not sad about it, but some of you may think it is sad. I have survived fine without it so far!
Ok, enough about Star Wars, on with our day! Granted we were not that impressed, we did have fun. We were there when the gates opened and we dashed like everyone else to the brand new Toy Story Ride. We started to get in line for fast passes, but EVERYONE was in those lines, so we got in line for the actual ride! It was about a 20 minute line - not bad considering that Thursday when mom dad and them came, they didn't get to ride it at all! It was a pretty cool ride! Waiting in line was just as fun because of the way they had is decorated.
From there, we were right at the BackLot Tour, so we went and got in line there. We were right at the front of that line. The Cast Member asked for volunteer's - so I did what any loving wife would do - I volunteered Roger! He went behind the door!
We had no idea what we had put him up to! Once the line was full and it was time for the next round, the families of the volunteers got to be up front. The volunteers came out and 'acted' out a couple of scenes
- out of order - complete with water - (Roger is behind the wheel!)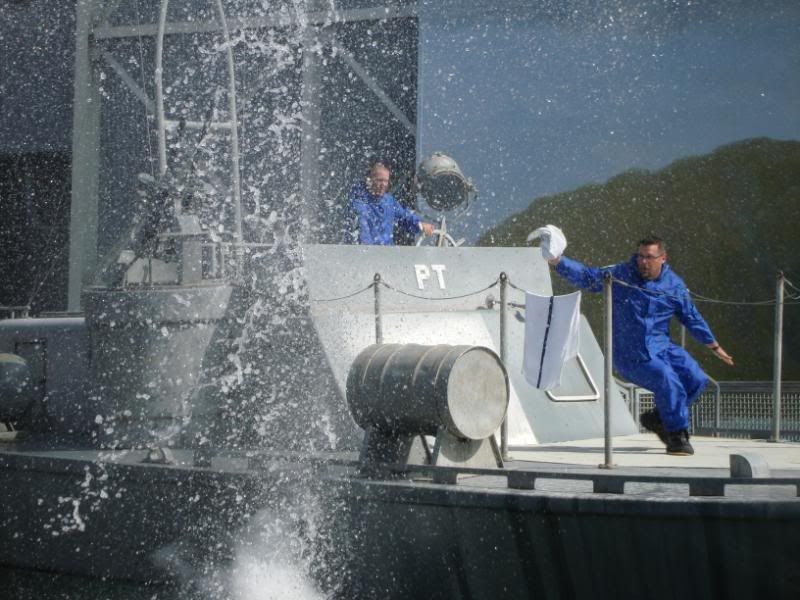 and then we all got to watch how they put movies together in order. Very cool! Roger wasn't to terribly upset with me...hehehe...the rest of the BackLot Tour was neat - in a way, but in some ways, it ruins some of the 'magic' of movies!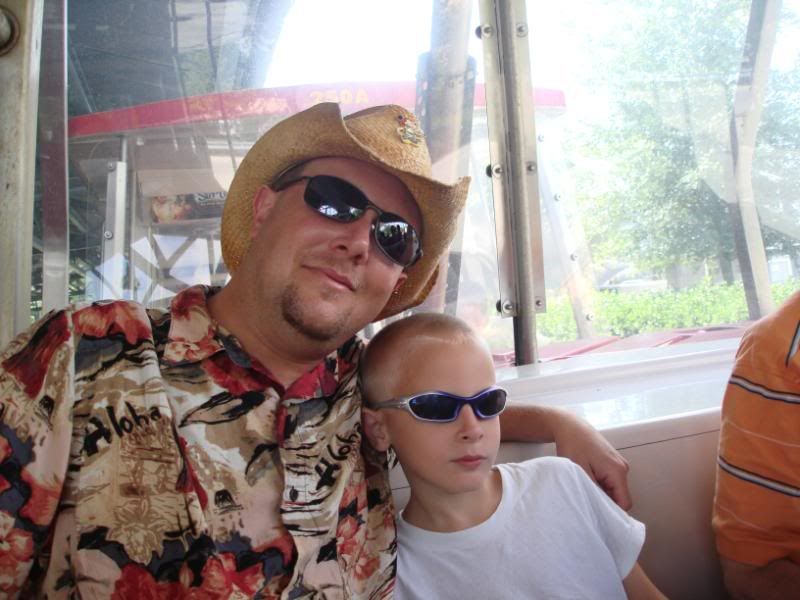 Coming off the BackLot Tour, we ran right in to the Power Rangers - we each grabbed a kid and jumped in a line. We were the last kid in each line to get the autographs and pictures!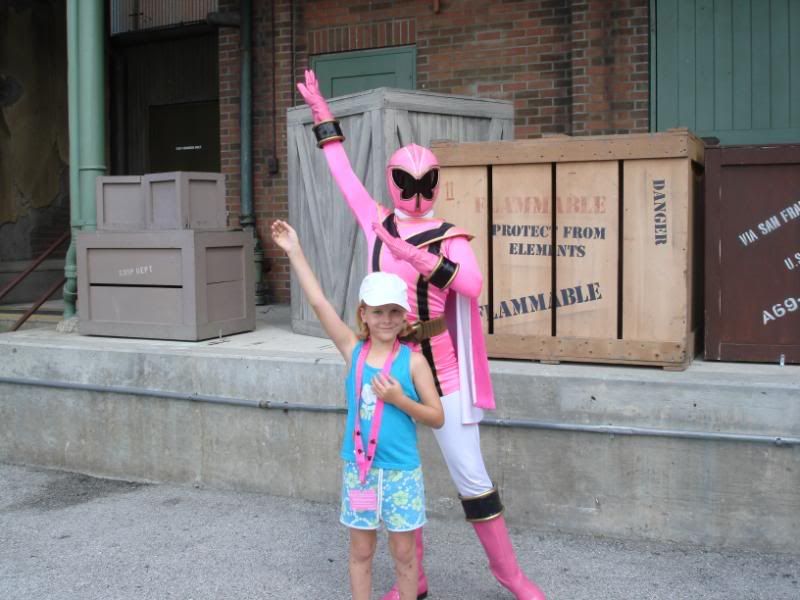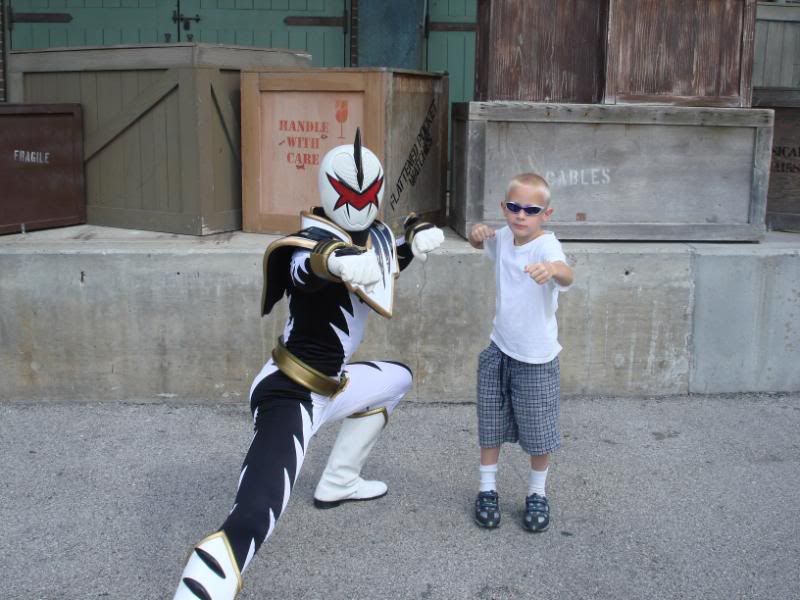 We were right by the Honey I Shrunk The Kids playground, so we ran thru that.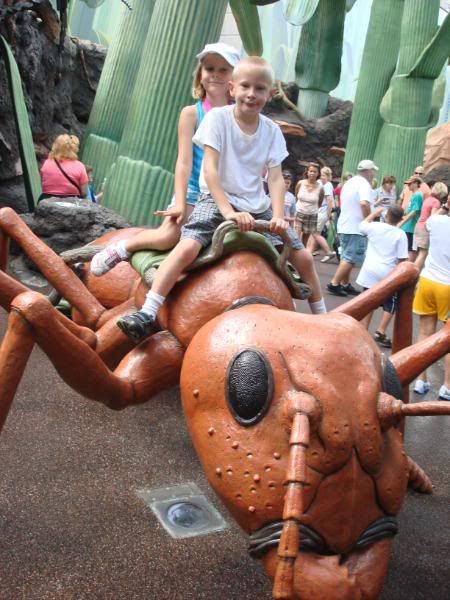 Then we were off to find something to eat. Pizza Planet was on the agenda for lunch - then we all spent a little time (and a lot of money) playing the arcade games - hey - you gotta have the full experience to enjoy it!
Time for Lights, Motor, Action! Really cool stunt show, the kiddos loved it. Once again, I felt it took away from movies by sharing to much.
We worked our way thru the crowd, stopped by a parade, to end up at Indiana Jones and the Temple Show. I cared nothing about this, but the kiddos were both looking forward to it (Riley is really into Indianana Jones) but I saw it as an opportunity to sit in the shade and take a break.
On the way out, we went thru one of the stores, and I found some scrapbook stuff! The kiddos heard High School Musical going on outside, so we watched part of that parade go thru. We really wanted to stay for the firework show but it was still fairly early, we were hot and tired and we were leaving in the morning, so we decided to head on out.
And guess who we found on the way out!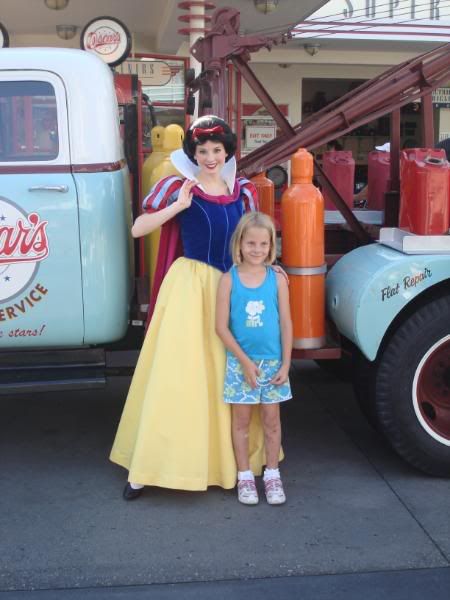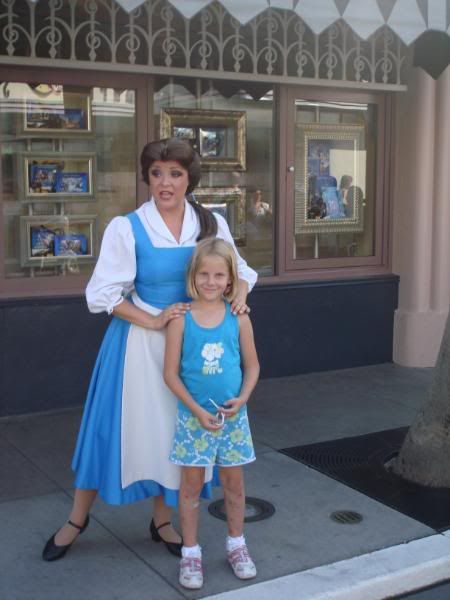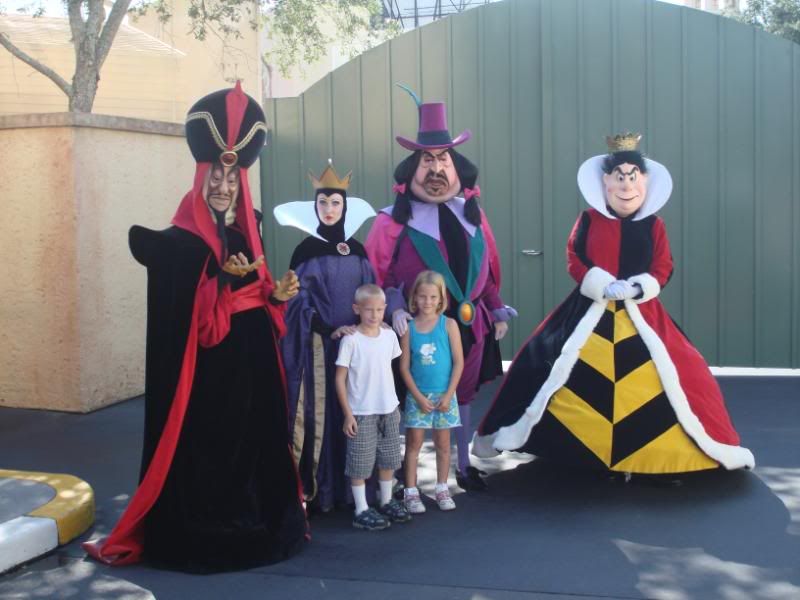 Riley didn't care much for it, but Samantha was thrilled!
Back at the condo, we got ready to head out the next morning.
Day 9