Magic Kingdom day!! We all put on our Arkansas Razorback shirts and headed to the magical place! We got in line to get in early, and rode the ferry over there.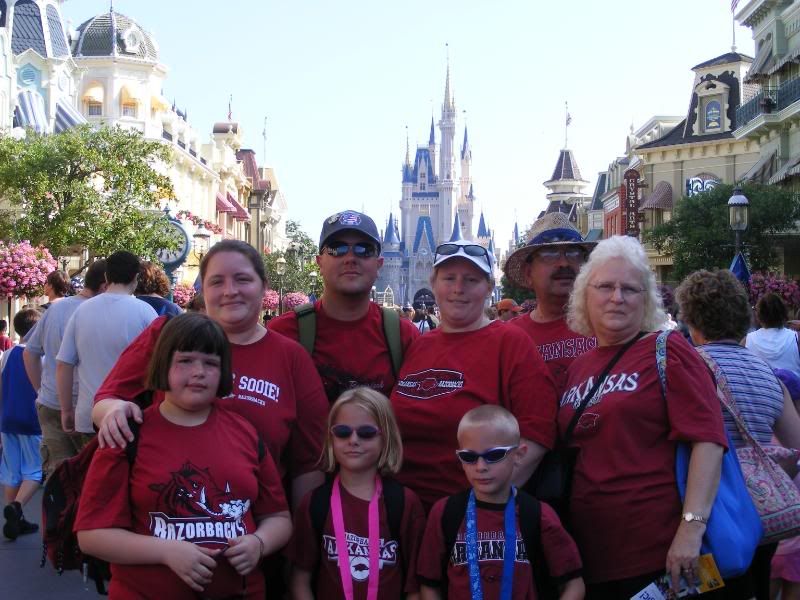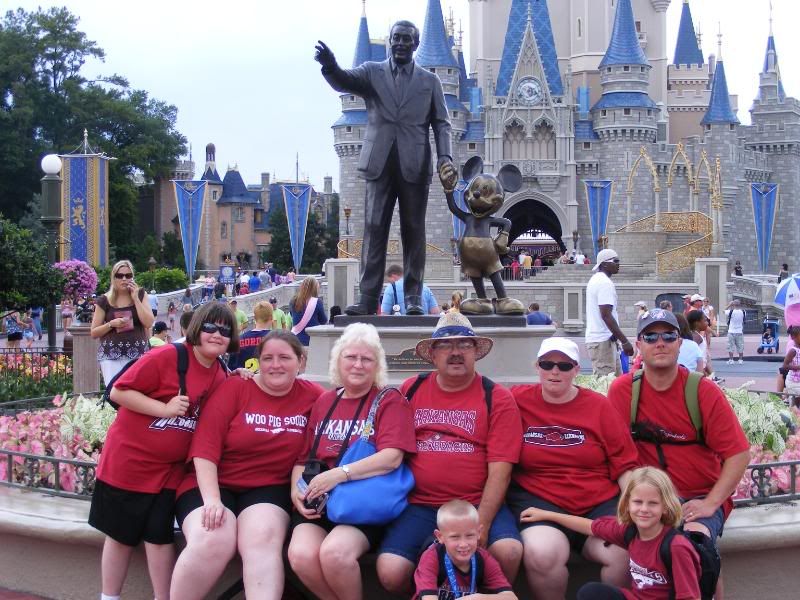 Once there, we headed straight to Dumbo - see you have to do things like that when your sister is a total elephant freak! We rode Dumbo and the other Fantasy Land rides, including the ever-so-popular-must-ride-but-gets-on-your-nerves-by-the-time-it-ends It's A Small World! About halfway thru, my neice turns around and says, ok, I am officailly annoyed! From a 10year old- how funny was that!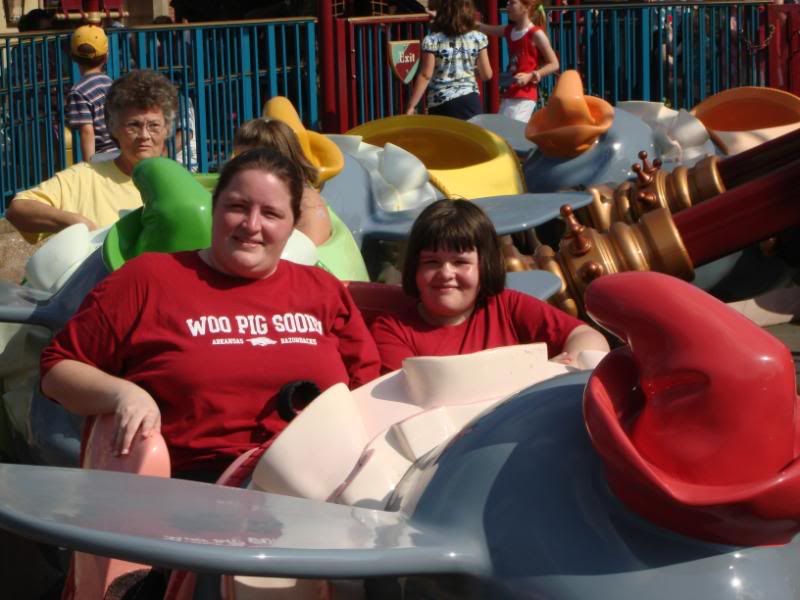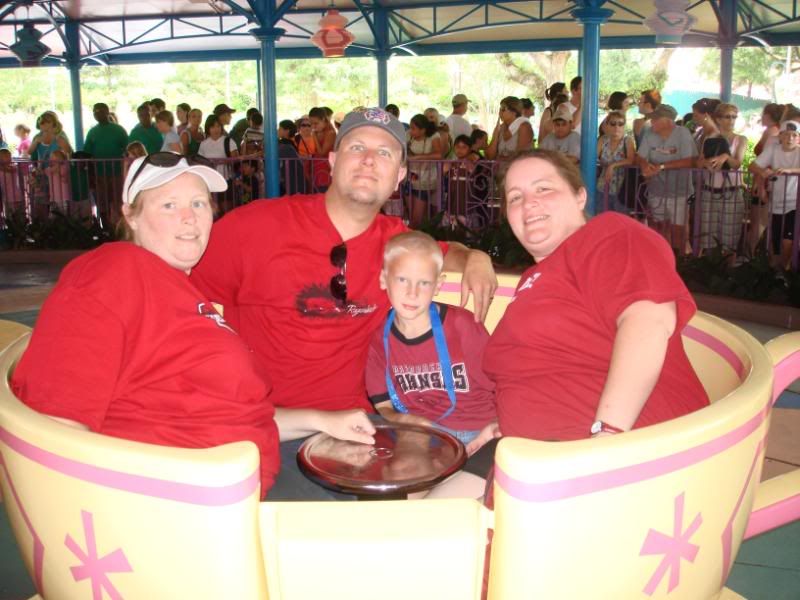 Chelle couldn't handle the TeaCups: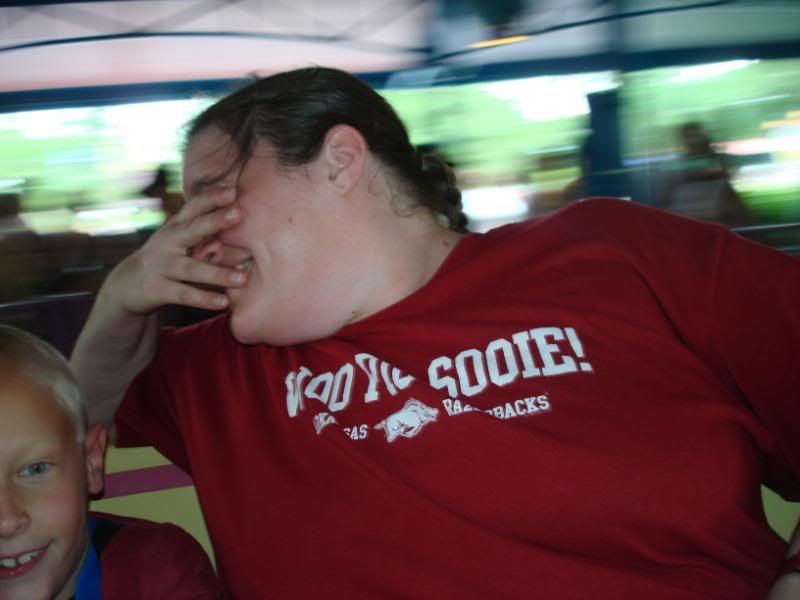 We left that area and headed off in search of Mickey Mouse. We waited in line at Mickey's House in ToonTown Fair for a realllllly long time - probably the longest line we waited in, but hey! it was to see the mouse! Once we got in the area where Mickey was was definately worth the wait - there were 9 of us and we took ALOT of his time, but we never felt rushed, we got all of the autographs and pictures that we wanted to take.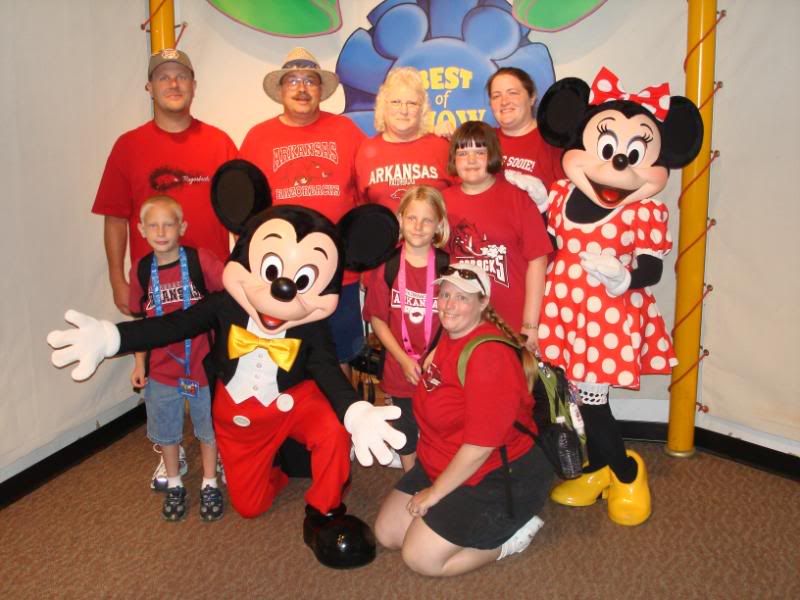 From there, we rode the train around the park, then jumped back off in ToonTown to head to TomorrowLand.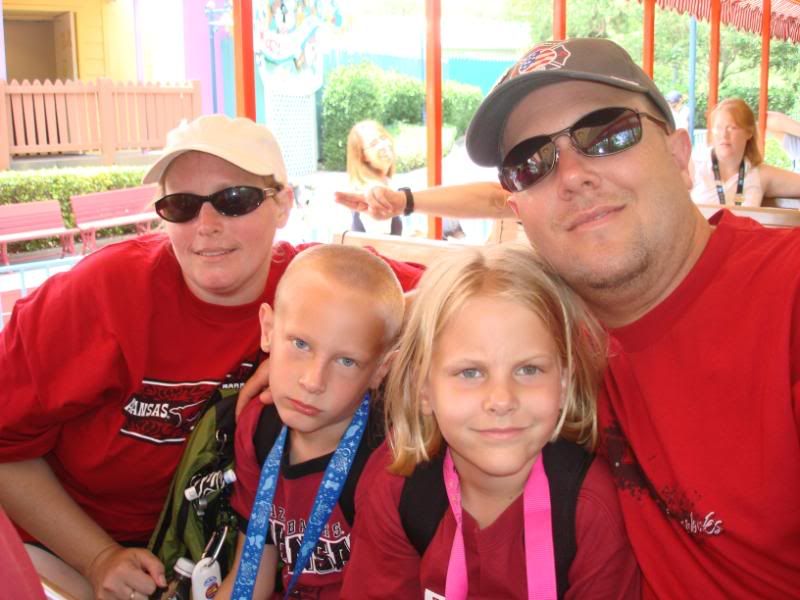 We hit several of the rides over there - but had to fast pass Space Mountian - until 6pm. So, we headed straight across to Frontier Land, to have a pineapple icee thing, then it started to rain. We got in line for the TikiTiki Room and waited out the rain/storm in that line and during that show. It was still raining a bit when we got out, and even lightening - so all the rides were down until the storm blew over. Rog, Chelle and I left the kiddos with mom, dad, Tony and Barb to go see the Country Bear Jamboree and we went to wait in line, in the rain for Big Thunder Mountian Railroad - come to think of it, this may have been the longest wait - but not because of the line - we were first in line- but because of the storm. Well, let me tell you- I LOVE rollercoasters - I will ride any of them at least once, and out of all the roller coasters I have been on -this had to be my very most favorite of all! This was the best roller coaster ever! Our original plans were to ride Big Thunder, then go ride Splash Mountain - we passed on Splash and rode Big Thunder again!!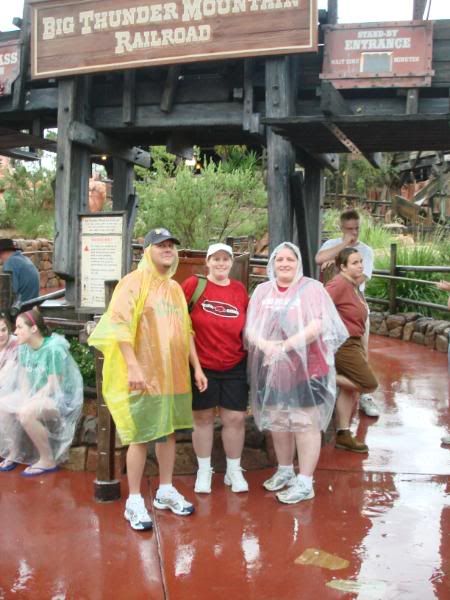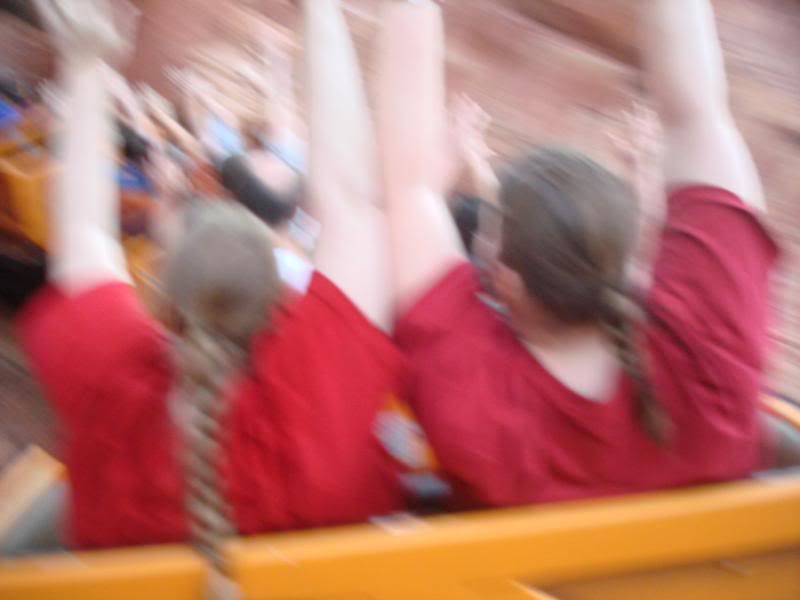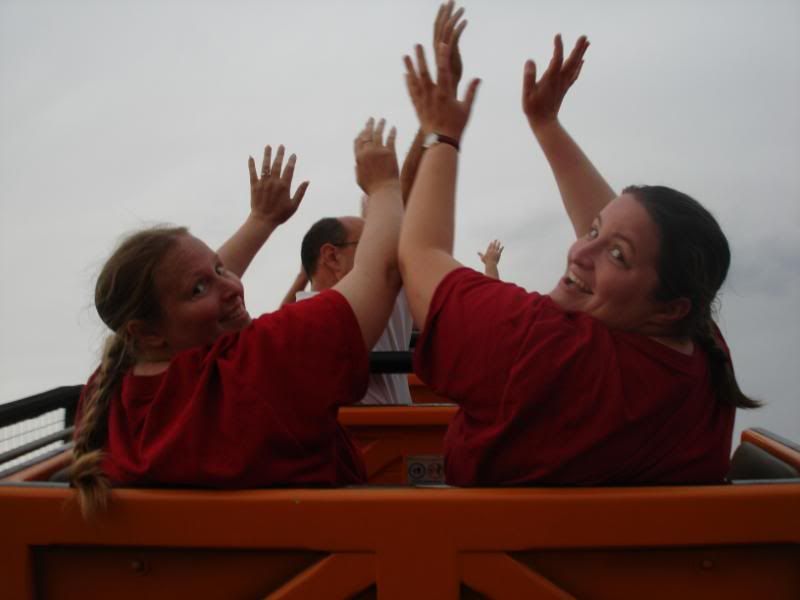 We met back up with the rest of them and decided that they would go ahead to dinner while we rode Space Mountain - then we would meet back up with them. Space Mountain was fun - we laughed the entire ride! We met for dinner and had a good view of the castle, and had planned on sitting there and watching the fireworks, but in the end, we decided to move toward the gate.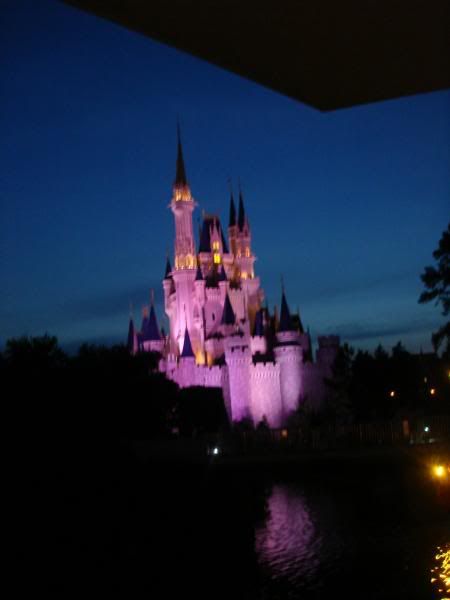 We made the right choice - watching the fireworks while looking down Mainstreet towards the Castle were very pretty.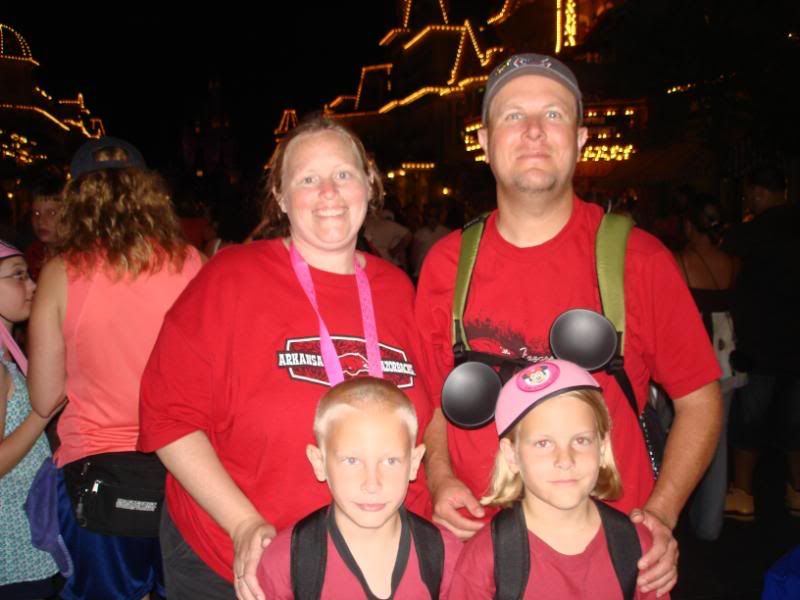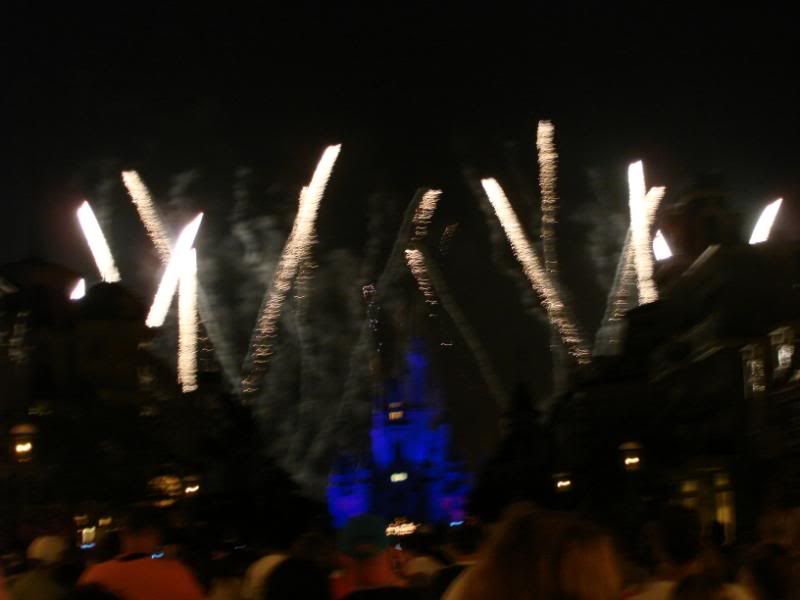 Time to go, so we headed for the Monorail along with the other million people that were at Magic Kingdom. Our wait in the monorail line was very short! We walked up, and pretty much got right on. We were all tired and went to bed pretty quick when we got back to the condo.
Day 5