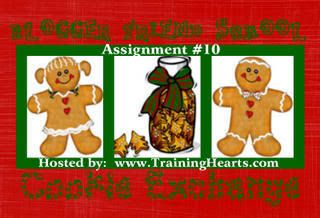 Part A: Please share your Favorite Christmas/Holiday Cookie Recipe(s)! ~ This is my favorite cookie!
Part B: Share a memory, story or tradition about baking any Christmas/Holiday goodies. ~My parents weren't really 'bakers' so I don't remember much frm growing up - except my daddy used to make these awesome cookies - that my sister and I noticed on the back of the Reese Peanut Butter Cups bag....PB Cups in PB Cookies!!
Part C: Share a verse that is upon your heart this week.