Just checkin in from a busy day. We had academy today -I have been calling it co-op, but I have recently learned that it is not co-op, so from here forward, I will be calling it academy.
I am teaching the K class...well, we are at a whopping 2 on the roll - this is our first year - and one was out sick today...do you have any idea how hard it is to entertain a K that is not yours, somewhere out in public, that is smaerter than you?? No, really - we had a good day...this is our 3rd week, and I have been using FIAR for that class - the first week, we made passports out of memory books and we will add all of our stuff that we do in class (well, almost all) to that book for them to have at the end of the year. The first week, we didn't use a FIAR book, but I did sorta use the concept of it. We read Me on the Map, talked about different kinds of maps, I have a small world map that we are adding to each week. I also took a globe, a city map and a state map. I printed off a world map, a state map and a treasure map for them to color and add to their books. We also read Chicka Chicka Boom Boom and did several activites that went along with that.
Last week, we read Madeline and did some fun France stuff and germs and things that went along with Madeline. Today we read Mike Mulligan and His Steam Shovel and did some construction vehicles stuff...I have bee able to find an ABC book that goes along with eah of my themes so far -last week I found an ABC of France and this week, I had 2 - Alphabet Under Construction and the ABC's of Construction Vehicles. The kiddos in the class are really enjoying it. One of the girls even brought a train set for us to play with today!!
We ran by the library and switched out books -I sure do love on line reservations - just run in and pick them up...by the time we got home, both kiddos were fighting and both in tears, so I sent them to their room for some quiet time - I think they may have napped. After being surrounded by kiddos all day - lots of them - I think some down time is in order -even away from each other.
Ry had his first pack meeting at scouts tonight. Pack meeting has always been dinner of some sorts, so we did not eat before we went...apparently, they are changing things this year - because I do not consider PB&J dinner, when in the past, you have served pizza, chicken and BBQ!! Needless to say, Rog and I were starving when we left, so we ran thru Arbys - even though I am on an Arby's strike - they took away the homestyle fries - I do not like curly fires...
So, tonight was the first pack meeting, and awards from summer were given out - Ry got 3 more belt loops - he had archey and bb, he got another archery, another bb, a volleyball and a badmitton -all from summer camp - he is also owed a flag football and ultimate loop as well. He recieved his cub scout patch - that looks a bit like a letter that goes on a jacket - and 2 pins - the bb and archery. I am not really sure what the loops are for - besides awards, and I am not really sure if he is supposed to have more than one for each activity, but, he did it, earned it twice and he was awarded it by the same person twice, so I guess he keeps them both. Sme thing with the pins- what exactly do they have to do before they earn the pin - at what point does the award go from the loop to the pin? Anyone out there that can help me?
Here are a few pics from last night...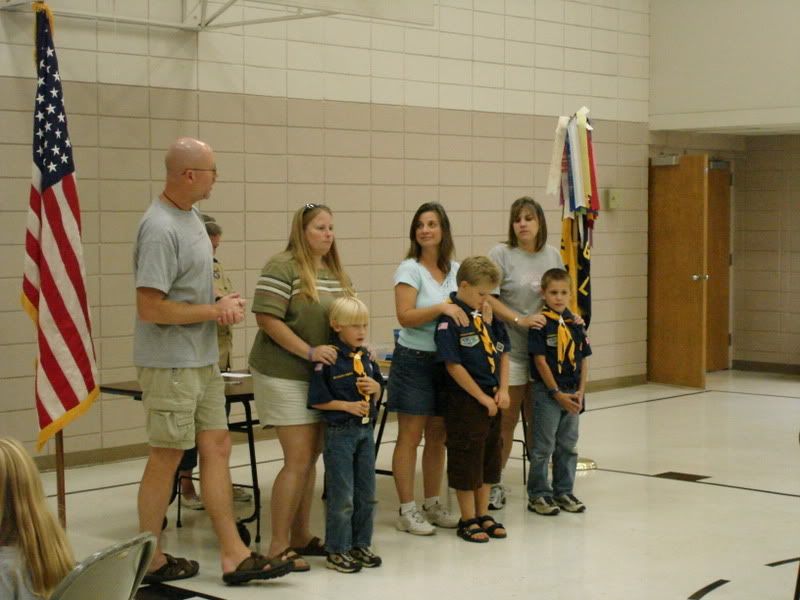 These are the 3 guys that went to summer camp as Tigers this past summer -and the den leader about to pass out the awards. Ry is the one holding his tie, I am in the greeish brown.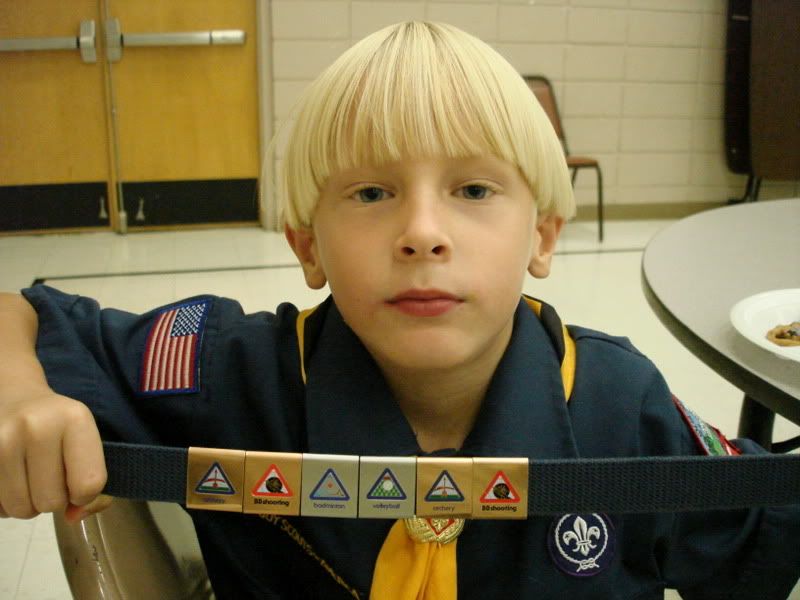 Here he is with all of his belt loops.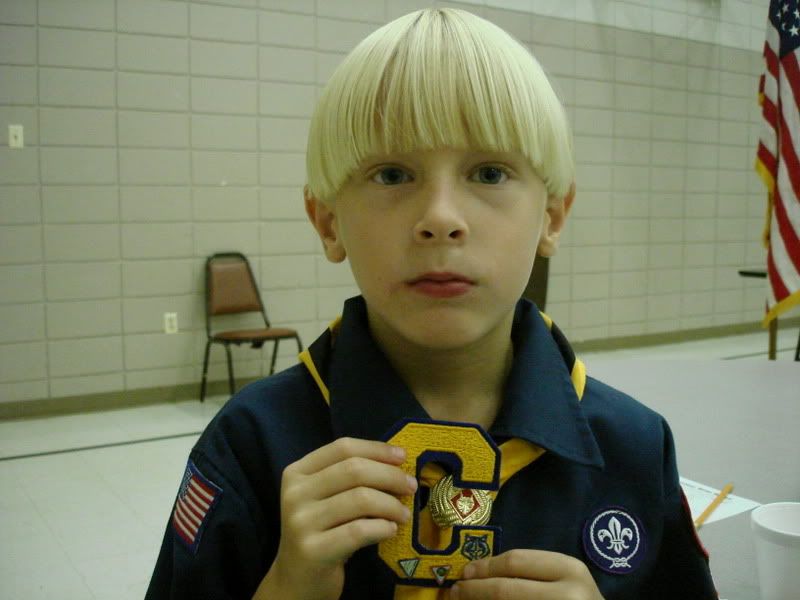 And again with his 'cub letter' and his 2 pins.