We had a full and busy day Saturday. The 14th is my niece's (Em) 10th birthday. My sis has been saving all year for this and it was so work it...
She had a this stretch Hummer come to my house and pick us and all of her friends up.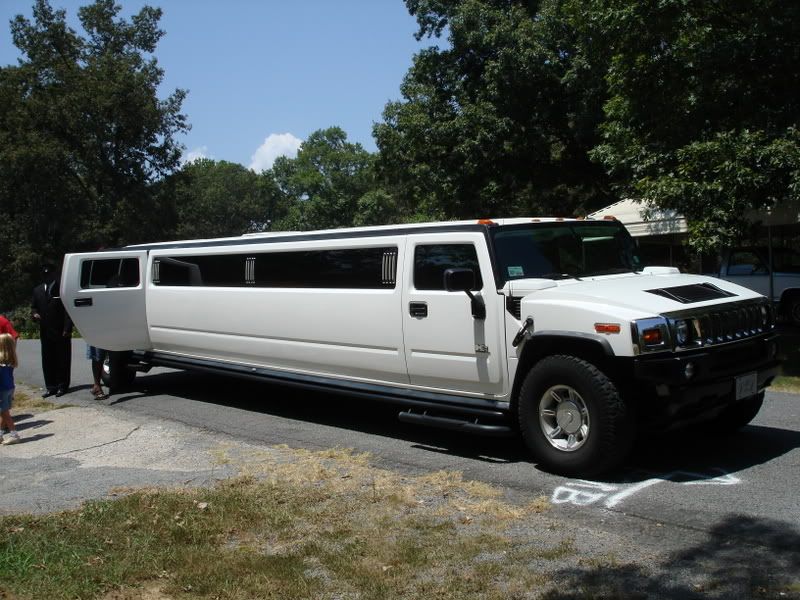 Em was at my mom and dad's house. The Hummer drove around her neighborhood -Em was outside and saw it go by - mom has video of Em seeing it and pointing saying 'Look, look, Look, look , look. I wonder where it is going?' (Keep in mind we live in Podunkville, so it was really out of our league to have it on our community). We circled the block and came back to her. The driver got out and walked up to her (mom and dad were there) and told her he was lost and could she help him. (you can see him in the edge of this pic talking to her).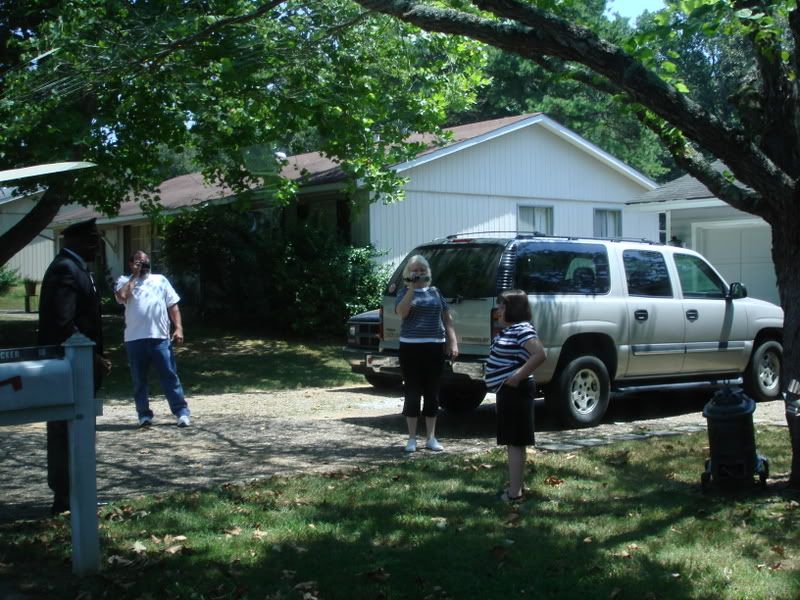 He said he was looking for Em. She froze. (That was a tricky one for kids - the car of your dream pulls up and a stranger gets out and calls you by name - decisions, decisions - go with the stranger, don't talk to strangers). Then, right after he asks for her, my sis (Chelle) crawls out of the back, followed by the rest of us. *(I have to add here - see my dad -taking pictures - with the camera he was using at the circus Thursday night and ALL DAY Saturday - he realized Sat afternoon late that HE HAD NO FILM!!!)
Em was in such shock/suprise that she didn't say much of anything...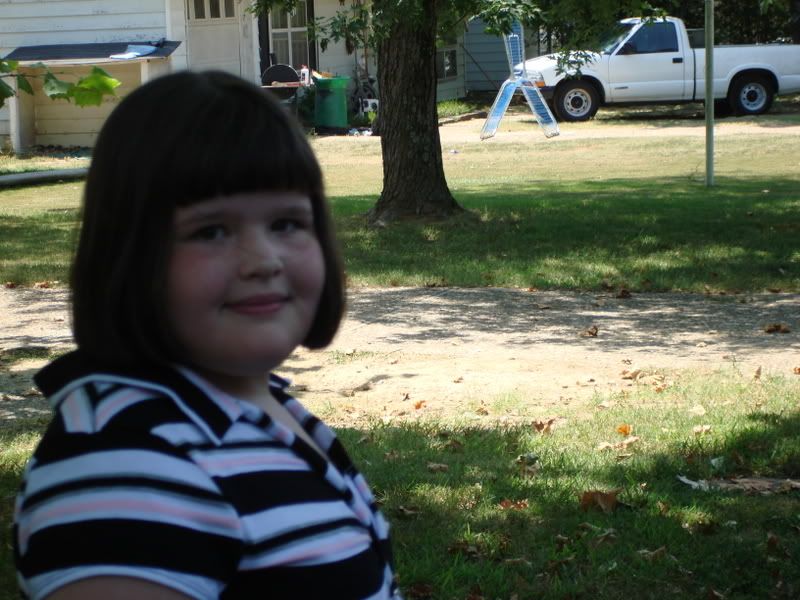 We all piled back in the Hummer and rode around for 2 hours -*(I have to add here - the neatest thing for the kiddos - it was made known several times by all of them - We don't have to wear seatbelts!!) then we were taken to Pump It Up - the party was a combination party for her and a Karate friend of her's - my sis didn't foot the entire bill for all of this...I got tons of pics of all of the kiddos in the Hummer, but due to privacy, I am only going to share the few of us.
Here is me and my sis...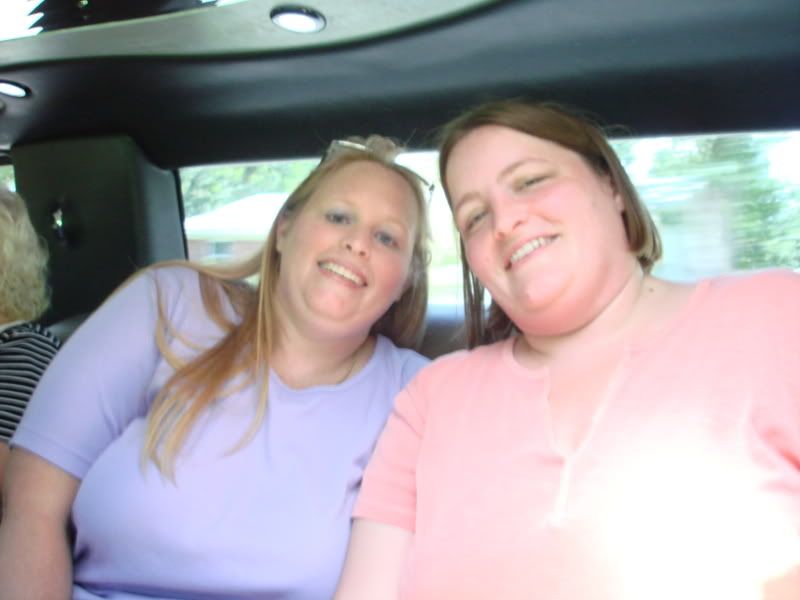 Rog and I...
Em and Ry...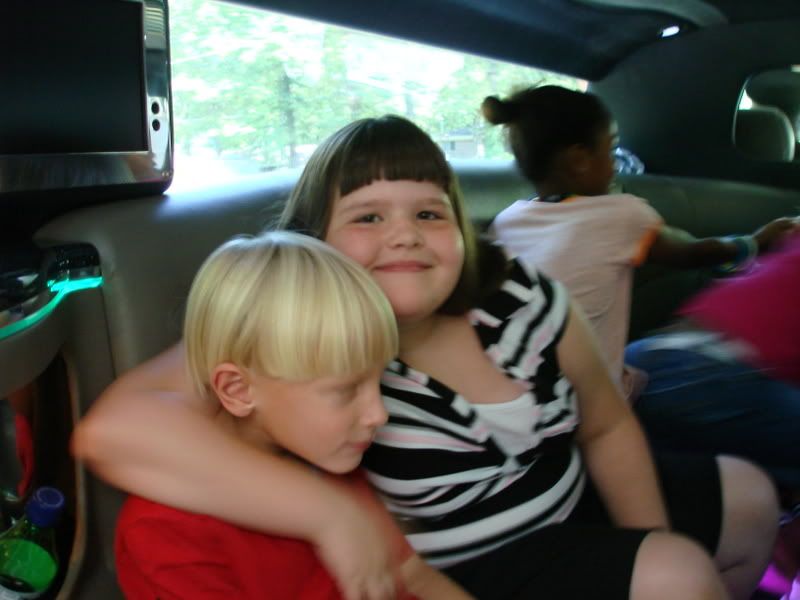 Sis being silly...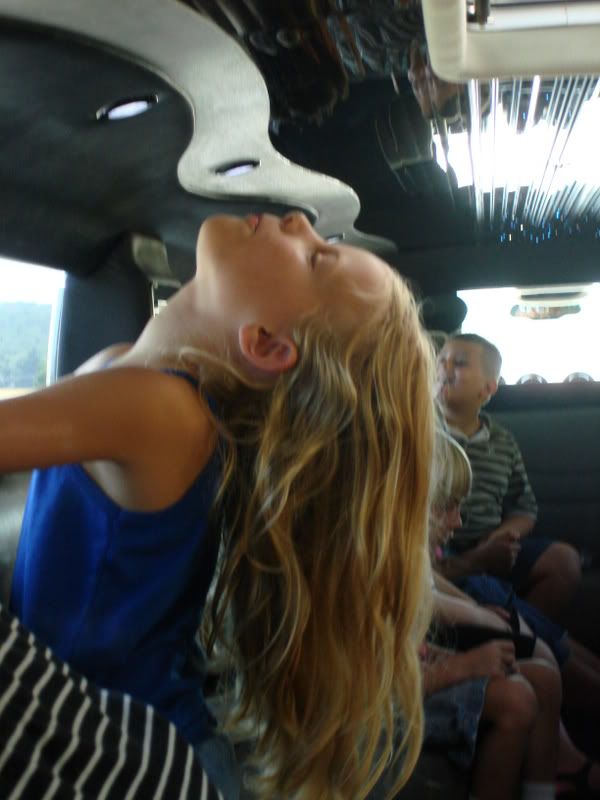 Tired girl at PumpItUp (Em with Poppi -my dad):
After the party at PumpItUp was over, the kiddos all went with Grannie and Poppi - my parents - and Rog and I went to the hospital to visit my great aunt. She has found out that she has ovarian cancer and is at stage 3, but the docs think she is healthy enough to fight it with chemo and make it thru the next 5 years. She is very healthy besides this, and the docs say if they can clear this up with chemo (for the next 6 months) and surgery to get the rest, if she can make it 5 years without any other related issues, then they will consider her cancer free. When we got there, she was a bit loopy -I think from the pain meds, and waiting on her first round. Sunday morning, she had had the first round and told the docs she felt better than she had in a while. She got to go home (an hour away) and will come back in 3 weeks for round 2.
We left the hospital and meet the kiddos and my parents for dinner, and it was after 8 when we finished up there. We headed straight to Rog's parents house - to sit out front and watch the sky. We only sat out til about midnight, which apparently wasn't quite late enough BUT we all got to see at least one shooting star/meteor. I was glad the kiddos were able to see one. It was a genuine I saw it -you could tell by the excitement in their voices. Here is Gramma walking to the dark part of the pasture with the kiddos...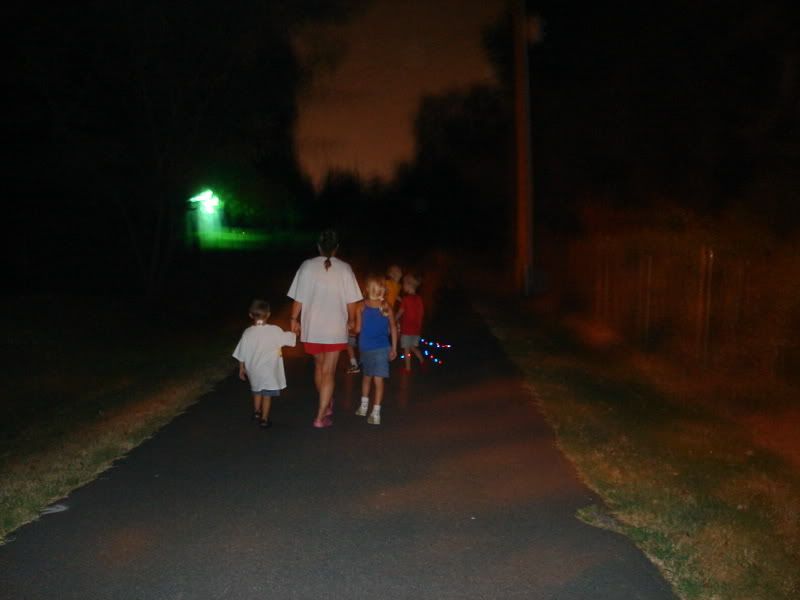 Here is the line up of the 5 cousins on Rog's family...