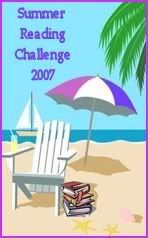 I read about the Summer Reading Challenge on Heidi's blog. I decided I would join in as well. I am going to go about the challenge in a different way than most. I am going to post a summer reading list of books that I want to read aloud to my kiddos between now and Labor Day.
My List:
The Adventures of Captian Underpants by Dave Pilkey (I know - not the best of choices- the kiddos love them and will sit for hours and isten to me read them)
The Cowboy and His Elephant by Malcolm McPherson
Pirates Past Noon by Mary Pope Osborne
Little House in the Big Woods by Laura Ingalls Wilder
The Boxcar Children (number 1) by Gertrude Chandler Warren
Night of the Ninjas by Mary Poope Osborne
Ok, there is my start list. Let me see how these go and I will add more.