Yes, back to routine!! We had bible study this morning, then quite a few errands. One of them was the grocery store - the pantry was bare here...
I had to go get our Brownie Troop re-registered -since that is taken care of, I am going to start trying to map out our next year - I would like to get that done before my 2nd grade stuff comes in, that way it will be done, I don't have to worry with it except the week of Brownies! That would be nice! I have 4 girls that I have re-registered, and possible 2 more to join us. So, I think 6 girls will be a good troop...maybe a bit small, but I would rather it be small. We will have our parent meeting the end of August, which sounds so far away, but I know it will be here before I turn around good.
Ry had his Bridging Ceremony this evening - he is now a Wolf Cub and so very excited about it. I looked thru his book last night and they get to do some fun stuff! He will learn alot this next year with his scouts. He was so proud of all of the boys in the pack - we all were - one of them earned the Arrow of Light award -which is the highest ranks for a Cub Scout - and the only badge that is earned during cub years that goes on his Boy Scout uniform. Ry was wanting to know if he could get that - so he has his scouting goals set high!
Here are a few shots from the ceremony...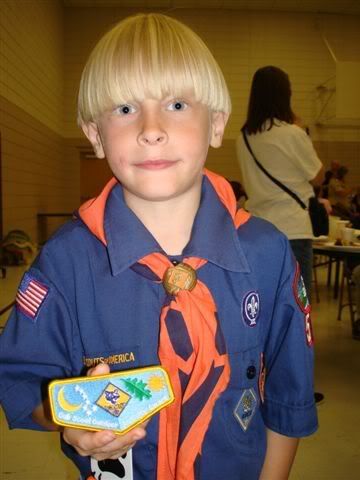 His patch from Cub/Dad weekend the beginning of this month.
His first 2 belt slides - Archery and BB shooting.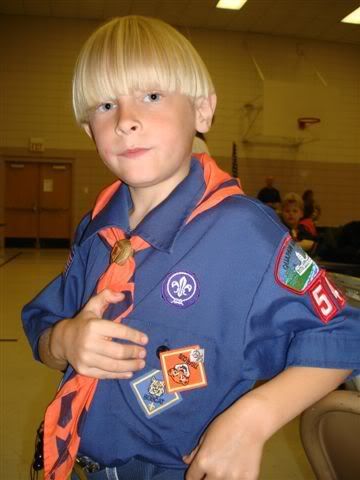 And his Tiger patch that he has worked hard for all year - the orange one that is upside down - as soon as he does a good deed without being asked, it can be turned around and ironed on his uniform.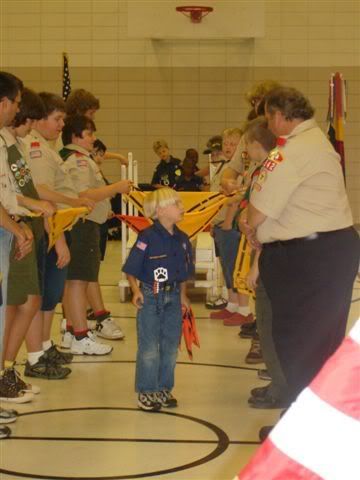 Bridging up...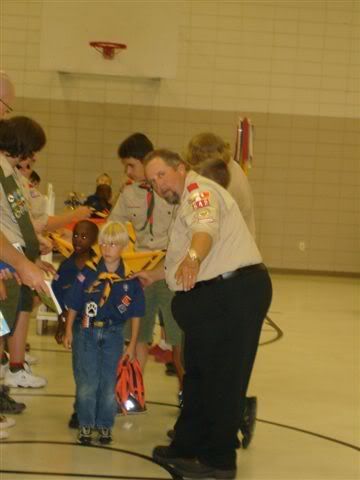 With his new Wolf scarf...
With his Wolf book and very proud sister!!