Riley has been taking Spanish each week at our co-op. When Spanish for You became available as a review for the Crew, I thought it would be great for him to have the reinforcement. We were chosen to review Estaniones.
The complete theme package: Seasons, is available for grades 3-8. Package includes a

soft cover book,

weekly

lesson guide,

&

audio files of entire book as an MP3 download, downloadable flashcards. The entire package is available for $64.95 There are other themes available and these can be used in any order.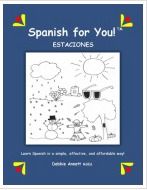 We used Spanish for You! four days a week, following the lesson plans as suggested. The lessons were great for my kiddos and I think the audio files were what helped so much - because we were able to hear the correct pronunciation of the letters and sounds. We will continue to work our way through the lessons - through next year when we do the 8th grade level.
The main issue I had with the program was it was very confusing in the beginning. There was a lot to download and sort through, and to me, it was very confusing. It took me a while to sort out what was what and when it was supposed to be used and with what. Once I figured out how it all went together, it seemed easier. Check out what the others had to say about Spanish for You!