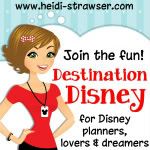 Welcome to Destination Disney!
Our focus is on
QUOTES
.
Each week,
Heidi
will be posting a new Disney-related quote
(sometimes they'll be from Walt himself, sometimes from others,
and sometimes from Disney movies and characters).
You can interpret the quote however you would like to -
use it to inspire a blog post, share pictures, etc.
This week, let's focus on this quote:
This quote deifnitely makes me think of homeschooling... along the delight directed learning style. I have always tried to be relaxed with our homeschooling and encouraged the kiddos to do just that.. dig a little deeper!