Do you see this?!? More Lewis and Clark stuff!!! I think we know enough about Lewis and Clark now that we would LOVE to go to visit the places along their trail in Missouri. Maybe that can be part of the plans for next summer.
Homeschool Legacy offered members of the Crew an option of one of ten different products to review... I was lucky enough to end up with the Lewis and Clark: From Sea to Shining Sea study! You can have your very own study on Lewis and Clark- or one of the others they offer. I am actually looking at one they have on the Constitution for us to go along with our study on government, civics and elections coming up this fall!!! You can purchase any of these studies for $19.95.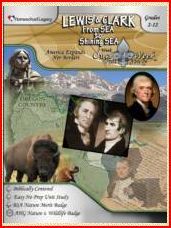 This is a fully planned Unit Study that offers subjects from Bible to the core to the extra's such as Art and even field trip suggestions!
One of the cool things that the kiddos loved was the other subjects that we reached out and learned about... I mean, who would have thought we would be learning about beavers when we set out to study westward expansion and two guys that we had heard their names but didn't know why.
Too bad we couldn't find a beaver dam around here anywhere...
This Unit Study had 7 weeks, and we have almost finished the study, we will be wrapping up next week with a Louisiana style dinner! They also loved the zydeco music we were introduced to while doing this study!
Overall, the kiddos enjoyed the study, they enjoyed the library books that went along with the study. I did have a bit of trouble finding the exact books that were on the list, but I was able to find books on the subject and that worked for us!
I almost forgot to mention - one of the other things about this curriculum is it connected with Boy Scouts and American Heritage Girls. I know that almost anything we do can be applied somehow to our scouting, but these lessons were specifically marked that they went along with BS or AHG along with the requirement number! Yeah, I made note of those in Ry's scout book!!
Please follow the Crew link below to see more reviews of Lewis and Clark, along with the other goodies that Homeschool Legacy has to offer!!

*Disclaimer: My family was given this product free of charge to use and form our own opinion of and share with our readers. The thoughts and opinions expressed about this item are strictly opinions of myself or my children.*