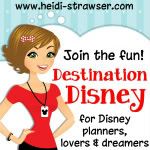 Welcome to Destination Disney
Our new focus is on QUOTES.
Each week, Heidi will be posting a new Disney-related quote
(sometimes they'll be from Walt himself, sometimes from others,
and sometimes from Disney movies and characters).
You can interpret the quote however you would like to -
use it to inspire a blog post, share pictures, etc.
Seeing this, miles away from the magic place of Disney, makes me think of all of the different lands that are at Disney World. They say this sign is at the front of Magic Kingdom, I don't remember seeing it. I will be looking next time I visit!
When you first enter Disney, you are "walking right down the middle of Main Street USA"! Set up to look like a small town, complete with a Fire Department! This part of Disney makes me think of yesterday ~
The Frontier Land also makes me think of yesterday.
Tomorrow Land almost makes me think of the fantasy part, but in reality, I guess it does go with the tomorrow part of this quote. Space Mountain is one of my favorite coasters!!
And the fantasy part....