Yay! It's time to start learning ALGEBRA!!! Do I sound excited? Well, I'm not. Algebra is something that I understand and can do, but I'm not sure I can teach it. I guess I better get ready, huh? Critical Thinking Press has been a huge help in helping me teach Algebra to the kiddos! We were chosen for this review and I think there was a bit of a mix up and we got the pre-Algebra book, so I started it with Samantha. Then, we got the Teaches Algebra and I started it with Riley. They were gracious enough to send us two different products, and that has helped tremendously! It helped me see where we were math wise! Riley is was a little more ready for us to start Algebra in the 7th grade. I think after Balance Math Teaches Algebra and Balance Math & More Level 2 we are ready to move on to 7th grade math.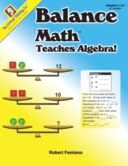 I think the Balance Math workbooks from CTP are a great supplement if you need to back up and spend a little more time on teaching the how's and why's of algebra. It does a great example of showing the *balance* that needs to be on each side of the scale to make the math work. The two levels we ended up with were perfect for us and gave us the jump start we needed to make me feel comfortable with next year's math.
I wanted to mention that we have reviewed a Balance Math product before and looking back, we enjoyed it as well.
Balance Math Teaches Algebra is available at The Critical Thinking Company for $14.99. You can check out what my Crew Mates had to say about this and other product that Critical Thinking puts out by clicking the Crew Banner above!
*Disclaimer: My family was given this product free of charge to use and form our own opinion of and share with our readers. The thoughts and opinions expressed about this item are strictly opinions of myself or my children.*