Really... there's an ART to ARGUING? I know that's just what we need around here... to perfect the arguing! Right, doesn't this look like something every mom of pre-teens needs? The only question I ask is who needs it more... me or them?
OK, all joking aside... We were selected to review
The Art of Argument
from
Classical Academic Press
and I have to say, what we have managed to work our way through, this is a really good program. I have been working on it with Riley and getting mixed feelings from him about it. I think it is a little old for him, he is in the 6th grade, so I can see him struggling with some of his thoughts with a lesson or two. At the same time, he does enjoy it and is really thinking about what he is learning and has discussed several things with me.
The website says Junior High age, which is kinda where he is, depending on how you look at things, however, I think he would benefit from this more if he were a little older. We are going to finish up the fallacy we are on and I think I am going to put it up for a couple of years. I am pretty sure that I will plan to use it with both of the kiddos when they get in to 8th or 9th grade.
I asked him what he thought about the program and he was hesitant to answer me at first, then he said 'It's a pretty cool program. It's kinda hard, but it makes me think about what I see on TV'.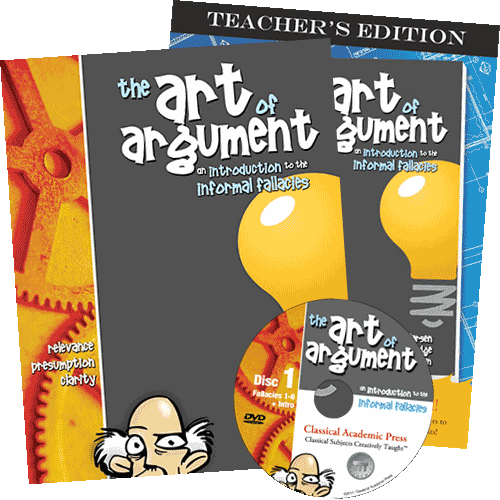 The Art of Argument is available from Classical Academy Press. The Student guide is priced at $21.95, Teachers' Guide is listed for $24.95 or you can get the bundle that includes both the Teacher's Guide and the Student Guide, along with the DVD set.
You can also visit the banner below to see what other crew members are saying about The Art of Argument.