Seige Machines? I think they are just what we needed here at the house! Seriously, I love finding clay balls all up and down the hall from the most recent battle or flinging contest! We have absolutely LOVED these machines!
And we had LOTS of help...
Pitsco Education sent us both Trebuchet and a Catapult. We put the Trebuchet together first, and I do have to admit, it was a little hard. In fact, as hard as it was for us to get it together, I am a little disappointed in how well it (doesn't) work. Don't get me wrong, it works, as far as flinging items, but I just thought it would work a little better than it does - it may be faulty assembly on our part, but the kiddos still love it!


The Catapult, I had Roger help them put it together and of course, it was easy breezey... the Catapult is my favorite, mainly because it can fling acorns, mini marshmallows, and little army men. Yes, you name it, it has flown down my hall via the Catapult. The Trebuchet has to have more weight on it, so we were not as successful with other things using it.
We also received the Seige Machine book that has many tasks and charts to encouraging using the machines.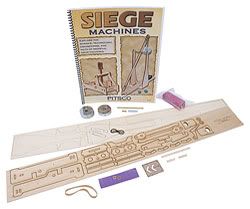 For more reviews on these products, please follow the Crew Link above!
*Disclaimer: My family was given this product free of charge to use and form our own opinion of and share with our readers. The thoughts and opinions expressed about this item are strictly opinions of myself or my children.*