I have to admit, I was a little leery about this one. I am not sure why I felt this way, but I was truly unsure about learning Latin. Mainly, why? Why do we need to learn Latin? I am still know sure I know the complete answer to this one, but I do know that a lot of our English words (along with several other languages) come from the Latin language. Maybe by learning Latin, we gain a better understanding of our language?
So, in my hesitant state, I filled out the form to give
Visual Latin
a try! I have to say, even though I am sure Latin will never be my strong point, I am glad that I introduced my kiddos to it! In just the few lessons we have done, we have all three learned a lot! I can see Riley wanting to continue on and thoroughly enjoying Visual Latin.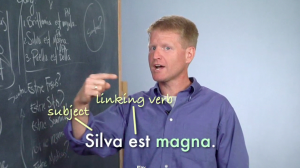 Of course, Dwane Thomas may be the main reason Riley would want to continue! Riley laughed at him every time we did a lesson. He was very engaging, wanting the kiddos to answer his questions and he made us all laugh. Riley said more than once "He is so funny!".
I do have to add one negative - they taught Samantha a new word- now we have to hear how *fessa* she is!
For this review, we were given the first four introduction lessons, which you can download free to check it out - go here- plus, Latin 1, lessons 1-10. The 10 lessons are reasonably priced at $25.00 for the download. The format is for a family, so it would just be the one cost for the entire family. Not a bad deal if you ask me!
Feel free to click the link below to connect to the rest of my CREW mates to see what they all think of Visual Latin!

*Disclaimer: My family was given this product free of charge to use and form our own opinion of and share with our readers. The thoughts and opinions expressed about this item are strictly opinions of myself or my children.*