My FIRST review for the 2011-2012 TOS Homeschool Crew is with

We were chosen to receive and review the game Civilize This.

The day it came in the mail, I was pretty excited! Yay! It's CREW Christmas!! I opened the package immediately, I wanted to see... and then it took me 10 minutes to figure out how to open the game! I loved the packaging (we like games that can travel - deer camp, camping, road trips!) and this one will defiantely fit in my travels game bag! It is easy to store, all in one container and fairly compact! I flipped through all of the cards - look like it will be fun, but maybe a bit of a challenge as well (for me anyways!). Maybe we will have time to sit down and play it tomorrow! Just first impression - looks like we will all be learning from this game!
In the end, we played this game many times (just not as many as they begged me to play it) and the kiddos really enjoyed it. I really liked it the first few times, but then once we got through the questions, it was a little blah for me- but since the kiddos love it, we continue to play. I started telling them - I remember this one - I will give my points to whoever can answer it. (because you know it's ALL ABOUT THE WINNING when your are playing a board game...right?)
I do like that it is not only very educational, it has given me several opportunities to say 'go look it up'. They can go look at the map, tell me the answers, but they have to tell me again when they get back to their seat! We are going to do some more research on the Maori this year as well!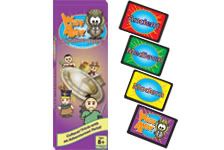 Oh, and this *Wise Alec* got caught in the act!!
You can find out what others thought of this game by clicking the Crew Banner above.
**DISCLAIMER**
As part of the TOS Homeschool Review Crew, I received this game to review free of charge in exchange for my honest opinion.