Let me just start this review by saying I LOVE Five in a Row!


I used it as a core for when my kiddos were younger and I actually used it in a small group setting in a co-op. I plan on using the Before Five In A Row in a small group setting at a co-op as well.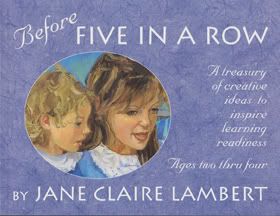 Well, my initial thought when I ordered this would be to use it with the preK class that I am working with for Class Day - small group setting - so I thought it would work. Then, turns out the review is due the same week as the first day of Class Day. SO.... while I am not going to be able to use the Class Day group as my review crew, I do still plan on using Before Five In A Row for that class!
As stated earlier, we love FIAR products! Using Before Five In A Row, you will be able to sneak in that extra study time with your littles! Grab your book and they will curl upon the couch with you and let you read to them! If your not familiar with Five In A Row, let me explain the thought behind it or the way it works.
The Lambert's have chosen an assortment of classic children's books and have set up a way for you to use them teaching your children. Five in a row means five days in a row. You pick one of the books and start off the week with it, reading it with the children each day. After the reading, the manual guides you along with some unit themed ideas to tie into the story you have read. With Before Five In A Row, there are activities to help with learning through things they do everyday - all based on the story for the week. These cover everything from reading readiness to gross motor to the arts.
You can purchase Before Five In A Row for $35.00 HERE. You can also read and find out what other's think of B4FIAR by clicking the Crew Banner below:

**DISCLAIMER** this product was given to me FREE of charge in exchange for my honest review. This review is the honest opinion of my self and my children.