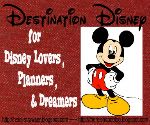 Disney Water
What? You ask. Well, like everything else that Disney does, they do water right. Think Seven Seas Lagoon, World Showcase Lagoon, andCrescent Lake – and that's just a few examples of LAKES. When I think of Disney Water, my mind also goes to the many FOUNTAINS throughout the parks
COT.
So, this week's topic is fairly broad and is limited only by your own imagination. Let's keep this topic for Disney ON LAND – parks, Downtown Disney, Water Parks, etc. – we'll save the REAL WATER (Disney Cruise Lines) for another post.
Great topic, because there are some great Disney fountains! I remember first time I visited Disney (in 1996) I was impressed with the *hopping water* at Epcot!
I searched through all thousands of my pictures and I didn't have a single one that was worth sharing of the water....UGH! And I was so excited about getting back into Disney....
So, for more Disney stuff, check out Heidi's blog... she always has many great pictures!