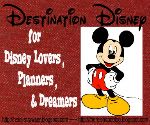 Souvenirs? Can't go anywhere without coming home with TONS of souvenirs!!
I do have to say, first, that I wasn't really crazy about too many of the 40th Anniversary stuff - maybe because I know we are not going and so, it really doesn't pertain to me...
Second ~ our favorite souvenirs, of course are pictures! No matter what we are doing, I take tons of pictures! When we went on October 2008, I did get a 2008 photo album (I'm sure I'll LOVE it when I get around to finishing that trip - no, it's not done yet, don't even go there!). Some of our other favorite things - our ears!
We were there for Trick Or Treat time and we all chose ears as our costumes - the kiddos were pirates
(not a good one of mine- but a princess, of course) and Roger's had blinking, flashing lights and says 2008 on there.
When I went in 1996, that was the cheapie that I brought home for all my friends, with their nicknames on the back - I am not sure if it is mine, or Rog's - but there is still a pair of those on the duck on top of our TV in the bedroom!