Well, I need to start this post with a HAPPY 14th ANNIVERSARY!!! to my wonderful hubby!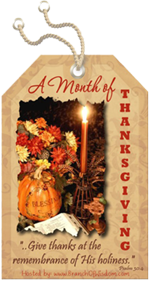 Today I am thankful for my hubby... we started dating in 1992 and after a bit of back and forth we were engaged and married in 1996. I am thankful that the Lord placed us together forever, that we had our main struggles before we were married. I am thankful that he has always supported me in whatever I want to do - from running a child care center to being a stay home mom and homeschooling the kiddos. He has been a huge supporter in my battle with Lupus & friends (all of the other things that I am dealing with). He goes with me to appointments when I need/want him to. He helps me out with things I cannot do when I am down. He is never mad, angry or frustrated with me- if he is, he hides it well!
He is all I have ever needed... who needs shining armor - my hero wears bunker gear!