A friend of mine (
Kathryn
) started this on her facebook, and I see she has it on her blog as well .... I thought I would copy the idea on here... The origin of this meme is here -
Branch of Wisdom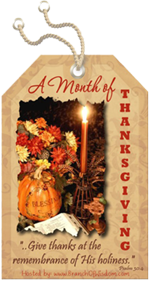 A month of Thanksgiving - Day 1
After spending the evening with a few friends for our Annual Pumpkin Carving Party, I have to say I am thankful for the friendships I have. I have friends that I know are there... no matter what. Even if we don't see each other on a regular basis, or even talk to each other regularly... I know that we will always be friends.... I am thankful for those relationships that are able to be maintained without constant attention...
I have two very special Amy friends... I have been friends with them since elm school. They both live out of state and I am blessed if I get to see them at least once a year... we hardly ever talk, but they are two of my true friends... I know I could call them right now and we would pick up like we never missed a day... If your reading this - love you both!!
I have other friends that I am the same way with... A blessing to have those relationships.