We left out this morning and headed to Damascus for Scouting Around the World Family Camp. Rog has been with Ry to Dad/Cub Camp, I have been for Mom/Cub Camp, so we went as a family this time so Samantha was able to join us. It was pretty rainy and pretty cool outside, but we toughed it out and had a fun weekend!
There were not many folks there at all. After Flag Ceremony, we headed to the craft pavilion and made these miniature stepping stones using plaster of paris and some shells and stones.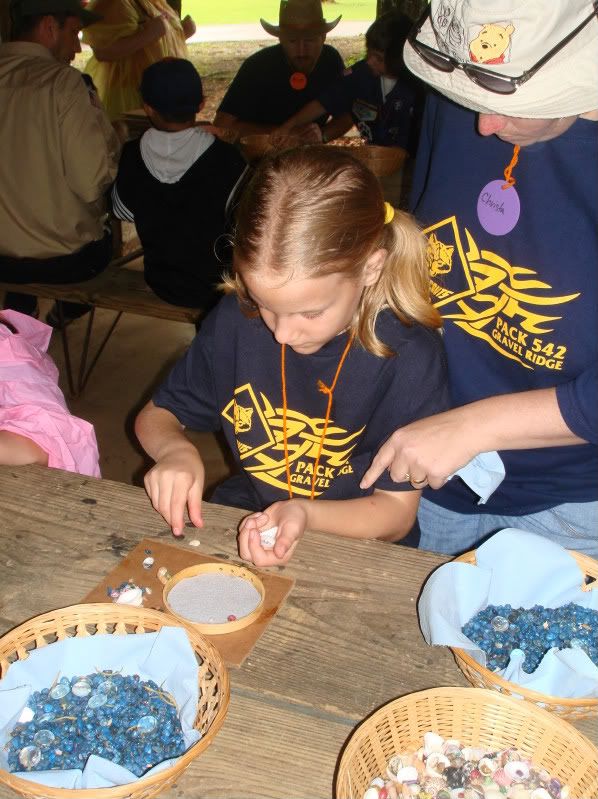 The kiddos wanted to try their hand at sling shots, so we went there next. There was no adult over there and I wasn't impressed with Service Patrols (teen boys) that were in that area, but we did spend a bit of time there. They were aiming kibbles at pie tins - Ry hit the first time - Samantha struggled with it, but enjoyed trying.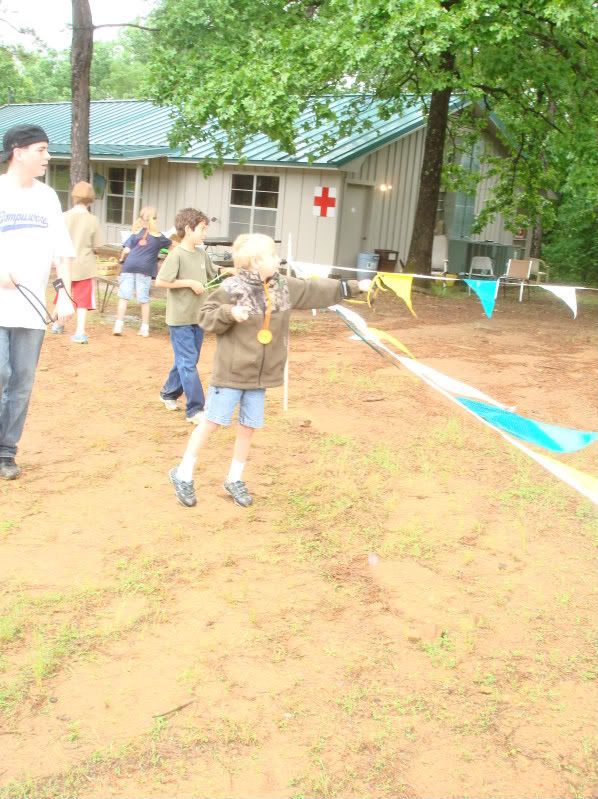 From there, we went to the skills area - know tying and map reading. The kiddos enjoyed the ropes and Ry practiced his slip-knot skill the rest of the day. I learned a few things about maps and compasses (not that I plan on being lost in the woods anytime soon, but still - it was neat!).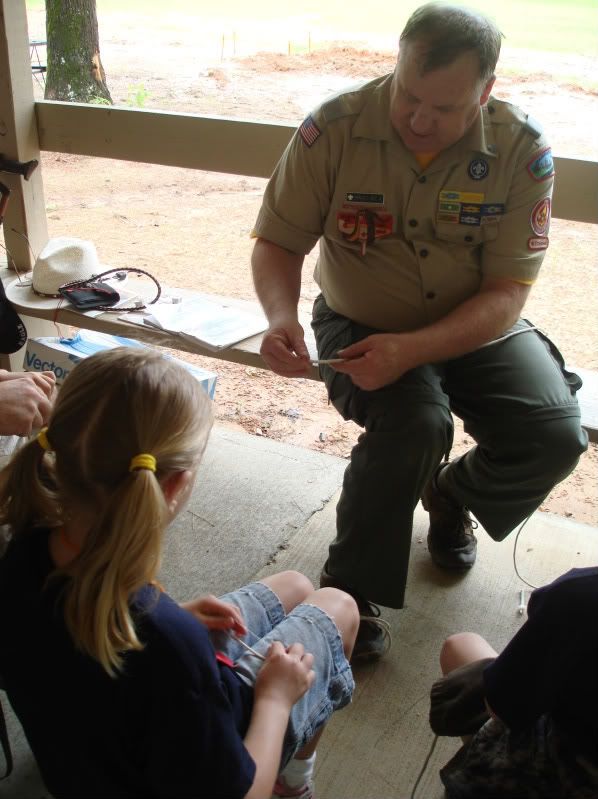 Due to the lack of people that actually showed up, they closed down the other craft shack. We roamed our way down to the shooting sports area. On the way there, we stopped and fished for a few minutes, but they were eager to get to shooting. Once there, the kiddos got a lesson on gun safety and Samantha got to use a bow and arrow for the first time. They both have had many lessons on gun safety, and Ry has a bow, just Samantha has never shot it.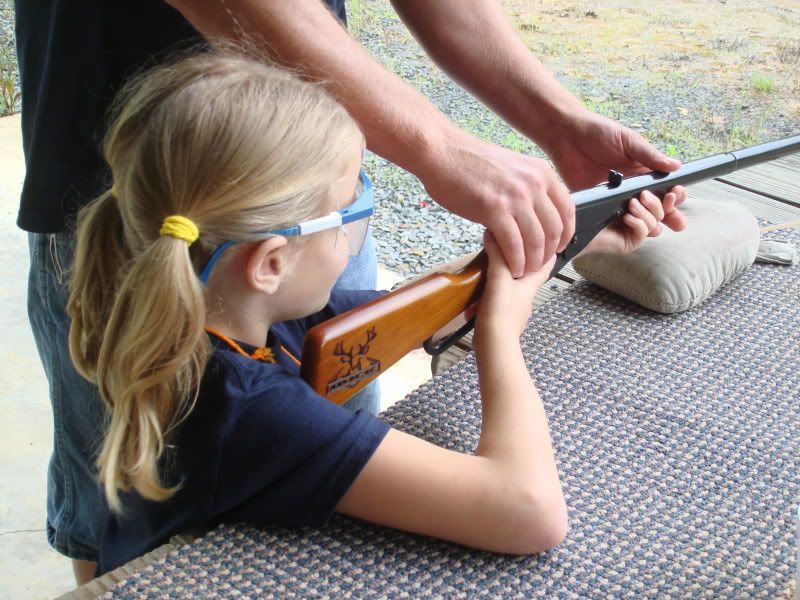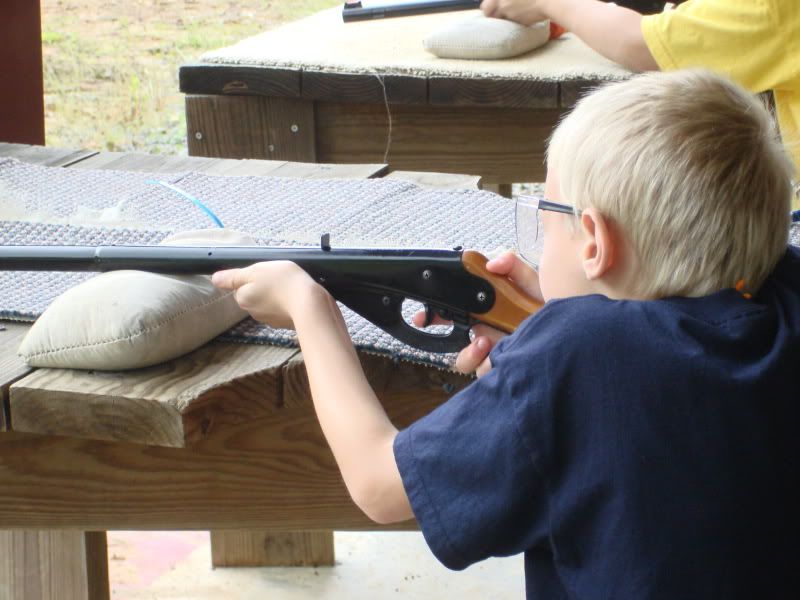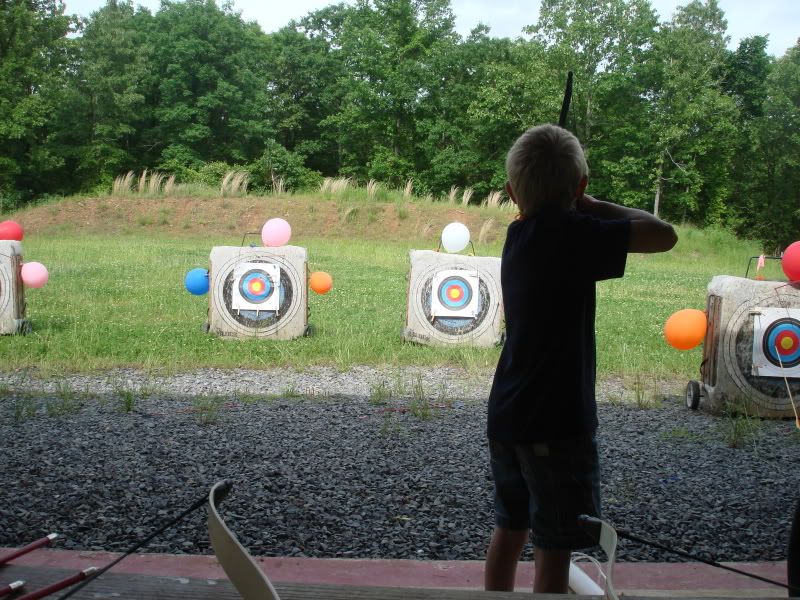 We had some free time between activities closing and flag ceremony for dinner. The kiddos ran around Rabbit Run (our area) playing with a couple of other kiddos that were there. Dinner was eeehhh...less than ok... I mean, if I don't eat the potatoes, there sis something wrong with them....LOL
It was pretty cool out, and they were calling for rain/storms, so 'campfire' was in the mess hall. There were some sing alongs and cookies and hot chocolate. They also had a pinata to stick with the Around the World theme that the kiddos had a blast with! Neither of my two got a turn at it - not that Samantha wanted on, but Ry was in line- but the rest of the kiddos were so funny!! After the busting of the pinata, they turned on the dance music and we all got to dance (lost a little of the worldly theme there, but it was fun!).
Lights out at 10pm didn't come soon enough. We had a LONG day and were ready for bed!! Rog and Ry were in one tent, Samantha and I were in another.