Today started out at a typical school around here, we started out with history, got thru one chapter and they decided since we only had two more chapters to go, we would finish today. Then, my neighbor called. It is an elderly couple and they love the kiddos, she had dyed eggs with her grandkids and wanted to know if we wanted the dye. We ran over to get the dye from her and she asked if the kiddos could stay and make bird's nest with them. I said sure, but to come home when they finished so we could eat lunch. A little later the phone rang, Mr. Neighbor had come home with a pizza and they wanted the kiddos to stay. SO, they ate pizza with the neighbors.
Once they got home, we finished up history - for the year!!! YAY!!! They played math games on the computer and then went outside to play.
We made chicken pot pie for dinner and while it was cooking, we did a speed clean on the house. The Girl Scouts came over and we made Easter crafts for a nursing home. Here is what my table looked like at one point tonight: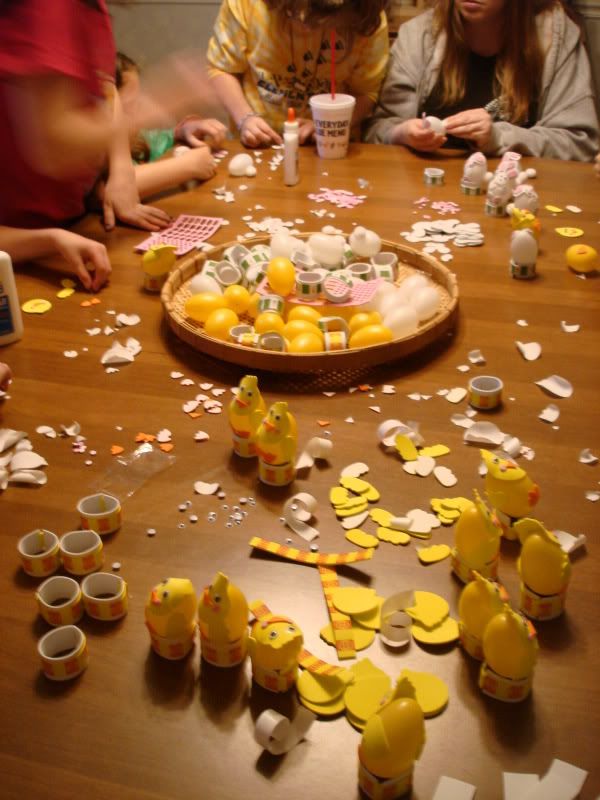 And here was our finished products:
The girls finished these up and went out back to play. They had a good time, and a couple were sad to go. We decided we would start having more 'hang out' time in addition to the meetings.
My kiddos are in bed, reading right now. I am thinking they have a good idea. As soon as I finish up stuff for the cake walk in the morn, I am headed there as well!