My friend Heidi at
Reviews by Heidi
hosts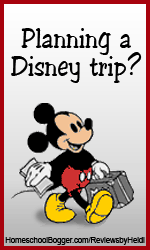 Destination Disney
each Thrusday at her blog. Since we ended up at Disney twice in 2008, I thought I would join in this year and share what all we experienced at Disney!
Our first topic for 2009 is to share your
Disney Planning Stragety
with us!
How do you plan for your Disney Vacations?
Do you just wing it, or do you make detailed plans?
Do you use books? Research website? Use a travel agent?
Do tell us, we want to know!!
I tend to be a planner by nature. I need to know what is going on and what we are going to do! The first trip we went on last year, we went with mom and dad and Chelle and Em. Mom, Chelle and I poured over a few different books ~ Disney on a Dime and Walt Disney World with Kids 2008 ~ were the two that we passed around. I searched around on a couple of websites, but none really jumped out at me.
We decided that since we were there on limited time (and finances) that we chose to go without the park hopper and planned one day at each park. After doing one park per day in June and then going back and park hopping in October - I prefer the one park per day method the best. Of course, I think it did help that we had (unplanned) personal tour guides that were able to help us around all of the parks each day. We were at the parks when they opened and stayed until they closed. It made for long days, but it was the way to go.
For our trip in October - there was no planning at all, we just went with the flow. My father in law was in charge that week and we just followed him. I had trouble with that - I struggled with not knowing where we were going or what we were going to do when we got whereever it was!!
One thing I did think was really neat - I will try to find the exact link and be more specific - on the Disney website, you can have them plan your trip - you pick the park, then you get to pick each ride and mark it yes, maybe, no and they will personalize a map and send it to you. We didn't use the maps while we were at the park, but man, they make a BEAUTIFUL addition to a scrapbook if your into that kind of thing!!
The maps at the park were our best 'planner'. We grabbed them as we went in the park and would map out our day from there,