Well, we 'skipped' our first day of school. We did get one thing done this morning before our day went south! Here they are with their family trees. We have been working on these since the first day of school and we are finally finished with them (with the exception of FIL family). These go back to their great-great grandparents.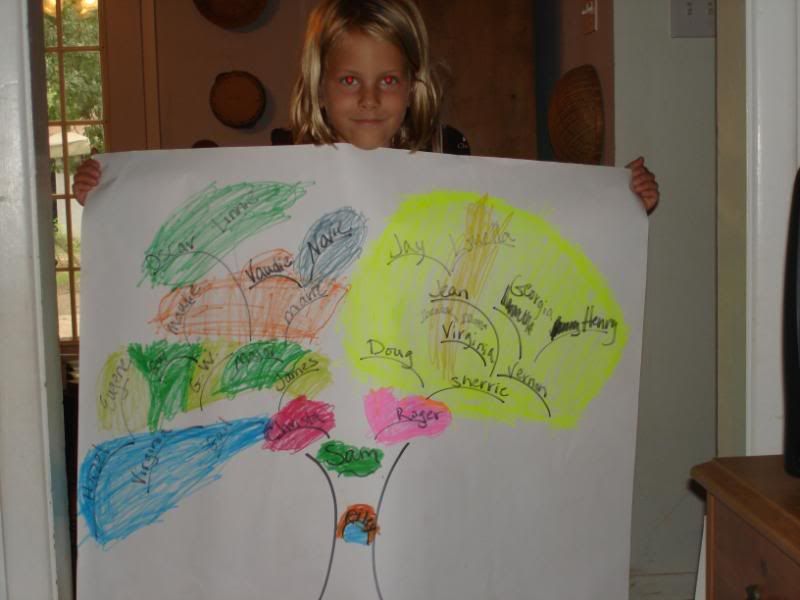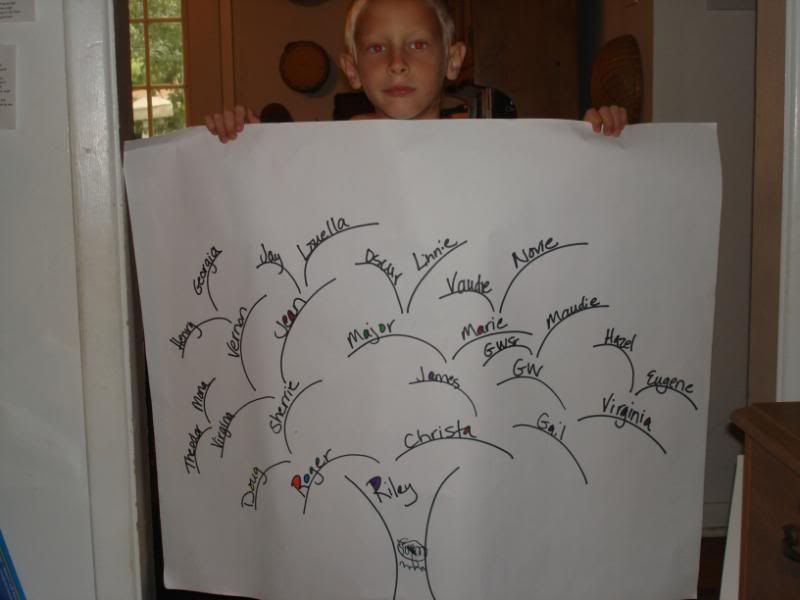 Skipping school ocurred for two different reasons. Today is my neice's 11th birthday and we were invited to Chuck E Cheese with them. I really did not want to go, so I told them we would probably pass, but I thought if the kiddos worked really hard this morning, I would surprise them with it. They didn't get the chance to work really hard because Roger came home from work early and said he was going to deer camp to work on his stands-well, that lost Riley for the day! He promised me that if he could go to deer camp, he would do all of Thursday and Friday's work on Friday. We didn't have anything on the calendar for Friday, so I agreed.
Since he was gone, do you think she wanted to work? Duh! I was onthe phone with a friend who was down one child also and her other was done with his work, so we went and picked him up and the three of us, me, Samantha and our firend R went to CEC with my sister and her friend. We weren't there long, but the kiddos had fun. Sorry, no pictures....
The kiddos ended up at Gramma's for dinner - they wanted to hang out with their other cousins that go back to school next week. They had 'restuarant' for dinner - that is gramma's way of cleaning out the fridge!! Roger and I had Little Caesar's pizza. We then got started and re-arranged our bedroom. I was getting bored with it, but it also needed a good cleaning!! When you have 2 large dogs, you tend to have tons of dog hair! If I would have thought and taken a before pic, I would share....sorry!
~*~*~*~*~*~*~*~*~*~*~*~*~*~*~*~*~*~*~*~*~*~*~*~*~*~*~*~*~*~*~
HAPPY 11th BIRTHDAY EMILY!!!
I love you!