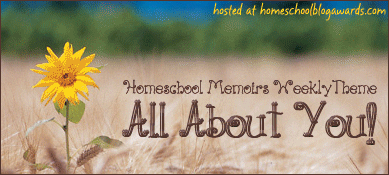 Homeschooling Blog Awards is doing something similiar to Blogger Friend School. I thought I would give it a try. This week's theme is All About Me. The author behind the words. The Momma behind all the homeschooling kiddos. How long you've been homeschooling and why you decided to homeschool. So, here it goes...
When Samantha and Riley were born, I was the Owner/DIrector of a child care center. I had dealt enough with the local school that Samantha and Riley were to attend, I had dealt with the kids that had gone to those schools, and I had dealt with the parents of those kids, so I knew kinda what was in store for me. I started researching the options and we decided that homeschooling was the way to go. There were several reasons affecting that decision, most of them being the same reasons everyone else chooses this route - we didn't want the school calendar to dictate our life, we wanted our children to be able to pray, we didn't want them exposed to drugs and all of the other loverly things that come with public school - that we have noticed they are being exposed to eariler and earlier.
While these are all good reasons, we had a couple of personal reasons as well. One of them ties into the school scheduling our lives. Roger works very weird hours and if the kiddos were in school each day, they would never see him. I do mean never. The time they would get to spend with their dad would be about 5 hours a week - if that. With them being home, they do get to see him and spend time with him. Another reason is because of my Lupus. Lupus is stress induced and the thought of waking two children, feeding them, getting them dressed, collected and out the house at a certain time (especially on days like today when it is POURING outside) followed by being thrown off in the middle of the day to go get them, fight over homework, activities, dinner, baths and bedtimes - all of that is enough to send me into a flare! Also, you know all those cooties that children bring home - the sniffles and sneezies - that usually don't amount to very much to most people. With the medication I am on, those silly little sniffles could mean big troubles for me.
I quit the child care center when the kiddos were 3 1/2 and have been home with them ever since. We started with preschool and have completed K, 1st and 2nd. Our 3rd grade year is well underway and we are having a blast. I am one that never says never, but I don't have any plans to grace the public school door with my presence anytime soon!