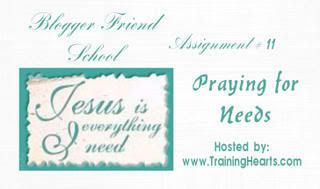 The assignment this week is to visit your classmates blogs and leave them a comment to let them know that you are praying for them. There are over 200 classmates that have signed up now!
You can find all your classmates listed HERE.
At the same time for your blog, please post any prayer needs that you have. The POWER of prayer is what binds us together with HIM!
I will make the commitment to visit as many of my classmates on Sunday - Rog will be at work, so I will have some free time.
As for prayer for me - my health. My Lupus is in a flare right now, and I would like for that to be brought under control!