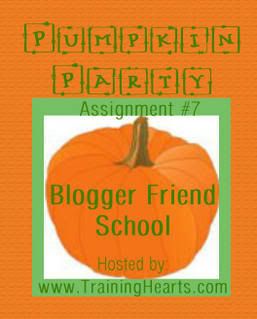 This assignment is open for creativity! Share anything in your assignment post related to Pumpkins….recipes, favorite books, children's drawings, Lapbooks and more! Easy and fun!
AND….
Share another scripture that comes to heart!
My kiddos love pumpkin pie - not sure why, Rog and I do not eat it - so here is the recipe that we use to make pie for the kiddos...
1 refrigerated pie crust
3/4 cup sugar
1 1/2 teaspoon pumkin pie spice
1/2 teaspoon salt
1 15 oz. can pumpkin
1 1/2 cups evaporated milk
2 eggs, beaten
Heat oven to 425°F. Place crust in 9-inch pie pan.
Combine remaining ingredients. Pour into pan.
Bake 15 minutes; reduce oven temperature to 350°F. Bake 40 - 50 minutes longer.
Store in refrigerator.