Jen in SC (from my FIAR boards) nomintated me for this lovely award. Jen is a new friend - as I am just becoming less of a lurker on the FIAR board. Truth be known - I should have given her this award - she sent me (rak) the number 6 Yada Yada! Stop by and visit her blog!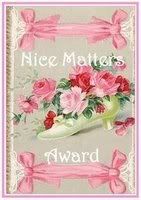 According to Jen's blog ~ "This award is for those bloggers who are nice people; good blog friends and those who inspire good feelings and inspiration. Also for those who are a positive influence on our blogging world. Once you've been awarded please pass it on to 7 others who you feel are deserving of this award."
Here are the 7 lovely ladies that I am passing this on to.
Debby at Little Angels - I have known Debby for a few years. She is one of my few 'invisible' (internet) friends that I have actually met. She is a super sweet lady and has a great family, so I feel she deserves this award.
Karen also gets the award. She is a homeschooling momma of 7 - she just graduated 2 of them!! I have known Karen since I very first was introduced to the web - she was in a group I was in - and I have always admired her.
Amy at Simple Folk earns the nice award from me. She is a wonderful friend to all...and she is a firefighter's wife like me - what more could you ask for in a friend!!!
Heather at Blog, She Wrote is a lovely lady from the FIAR boards. There have been several ladies who have needed some encouragement this past few weeks in getting back to school and she has always been there to cheer all of them along.
Ami at Walking by the Way deserves a Nice Matters Award. Don't believe me - check out Homeschool Share and all of the hard work that she, Wende, Candace and many others, have put into this wonderful resource for all to use!!
Elysa at Musings From Graceland is another friend from the FIAR boards...she always has an encouraging word for everyone. I have never met her, but I feel like she is one of those ladies who always has a smile on her face! She also introduced me to Purses for Purpose with the Children's Hopechest (all the information for this is on her blog) and shows how caring she is through this ministry.
My last nomination for the Nice Matters goes to MichelleL, also from the FIAR boards. She and I have emailed a time or two, helped each other out with our blogs, but she also has helped others on the boards with theirs. Michelle also always has encouraging words to say to the ladies that need a hug!
That was hard ~ there are many of my friends that deserve it, but have already ben nominated, so I decided to share the wealth ~ if I could nominate a million, that would cover everyone!!!
Thanks again Jen!!