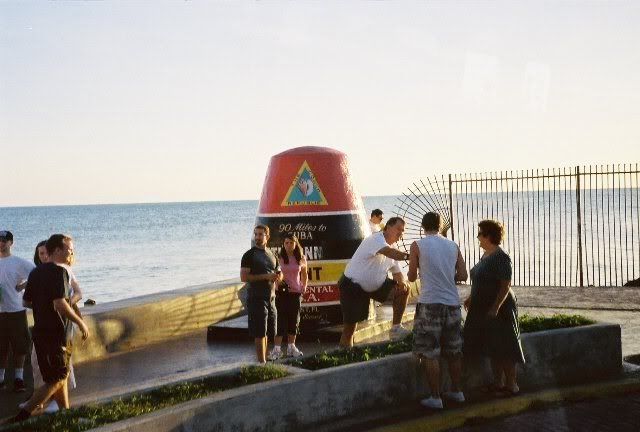 Well, the weather didn't really get much better thru the night. We did get up a bit earlier today - for several reasons 1. Room service!! Breakfast in bed was nice. 2. Rog was in a poker tournament at 11:00 in the Casino ( he gave me some money to play slots with, but I ended up watching him- that was hard because I know how he plays and I had to be quiet-I did go back and forth between watching him and playing slots - nothing fruitful from those machines - just killed some time and had a bit of fun).
We were also set to dock at Key West at 3:00pm and our excursion was at 3:15. We got off the boat, I mean ship (I got chewed out the very first day - before we ever got on - because I said boat instead of ship - apparently some people get a tad offended if you make a mistake - we had a good laugh about the slip-up the rest of the week though) and found our excursion. We had a mix-up with our tickets (actually, I goofed up - I only grabbed one set of the tickets out of the envelope instead of both of ours - we didn't realize that was the oopsie until we got back to the room late that evening) but the cruise people and the excursion people were very nice about it all and we got things squared away. The guy who ran the tour was extremely nice. We rode a van to down the island to the
Key West Butterfly and Nature Coservatory
, it was a pretty neat place (we have been to a few, the best one so far is in Branson) they had alot of butterflies and quite a few tropical birds. Once we got done there, we were waiting on the rest of the group so we could go to the aquarium (which was conveintly about a block from where we docked) while we were on the bus, we got a glimpse of life in Key West - let's just be safe to say that I would never fit in there, not only that - I have been once, it was nice, and I am in NO HURRY to go back!!! We drove by
The Southermost Point
of the the contential US, didn't get to stop there - I guess we could have walked back, but we didn't even think about that. We got back to
Mallory Square
- the west side of the island - in just enough time to run through the
Key West Aquarium
(was not impressed with it) and get out to Mallory Square to see the sunset.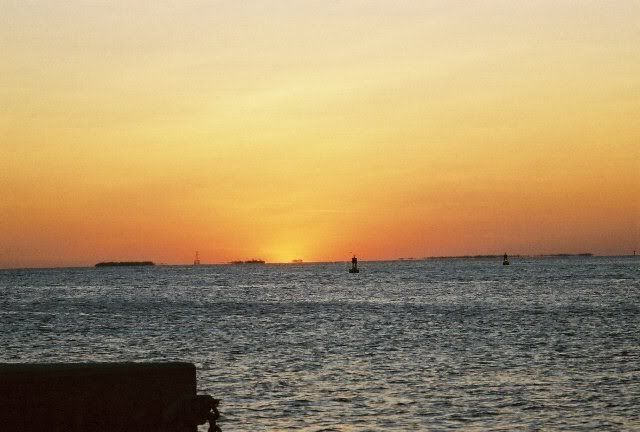 We got some nice pictures of that. It was very crowded there, then as soon as the sun set, people vanished. That was a nice area, a historic part of town. We roamed around the town for a bit, found a bite to eat, debated on going through Ripley's (but decided against it), and eventually wandered back to the dock. Like I said before- Key West has some pretty parts, and I am glad I got to visit it, but I have no desire to go back - and I especailly don't want to go with my children in tow - KEY WEST IS NOT A PLACE FOR KIDS!!! We did a bit of shopping and then got back on the ship. Our balcony overlooked the pier/town; and there was a festival going on on the peir, so we sat out on our balcony and listened to the music until it got to be our bedtime (we were supposed to leave KW at midnight, and we were not staying up to see that!).
Day 5
!!