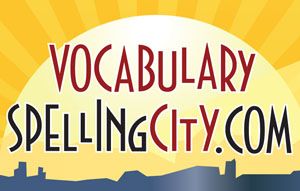 Have a kiddo that loves spending time on the computer? Need a Spelling program that they can use and will enjoy? (Oh, and you can replace 'Spelling' in this sentence with any of the following - Writing, Parts of Speech, Handwriting, Alphabetical Order)! You need to check out Vocabulary Spelling City! Spelling City is an awesome resource for language arts... and it works with you! By that, I mean it is set up where you can take your weekly spelling lists, from your own curriculum and add it to save and use. If you don't have a spelling program, no worries, you can load one of the pre-made featured lists and use it with the kiddos!
With your spelling lists, there are several options - spelling tests, vocab tests, games, flash cards and teach me. There are also 20+ more spelling, vocabulary, parts of speech (and more) games that can be played on this site.
Unsure about it still? Click on over there, sign up and see what all they offer for free... then you will be able to see how much more is offered with their premium membership! For what all you get, this is definitely an affordable curriculum purchase! $29.95 per year for a family of 5! Oh, and this is not just for homeschool families!! They have plans for classrooms, all the way up to entire schools!

To be honest, we didn't use this much this month. We have used it in the past and it wasn't my kiddos favorite. Couple that with it being summer and we do not have spelling words right now, it was just not what they wanted to do when they had computer time. In fact, we fought about it a time or two. When I asked what they problem was, I was told it was too *babyish*. I don't know that I would call it babyish, but I do think it is more on an early elementary level, not middle school level. Like I mentioned before, the grade levels go all the way up through high school, so I can't tell you what was going through their mind.
Funny thing about all of this is, I had them download the Spelling City app, and they seem to like it just fine... I have heard a few discussions about a couple of different games on there! So, I don't know if it was the having to pull out the computer when there are other things I want to be doing vs. the I have it on my phone while we are out running errands - but the app was a hit!
*Disclaimer: My family was given this product free of charge to use and form our own opinion of and share with our readers. The thoughts and opinions expressed about this item are strictly opinions of myself or my children.*