Science curriculum are usually pretty easy to come by... or even make up... but sometimes with the books and workbooks or living books and printables you still just need to SEE somethings! Well, at least we do.. if we have learned anything over the past few years, we are all visual learners, but that's a whole nother post! Back to science!

We were chosen to review Amazing Science Volume 1. I wasn't really sure what it was, but we are always open to something new and different around here (and hey, it was a DVD ~ visual!!). When it came in the mail, the kiddos wanted to open it immediately and check it out, so we did! Turns out, it is a collection of experiments and how to do them! There are 23 experiments on this two disc volume. We have watched all of them, and tried several of them. One of the things I liked, some of them are simple enough that the kiddos can do them on their own!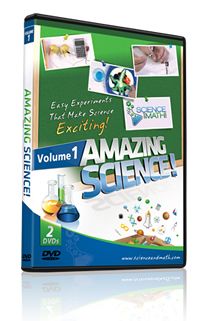 Here is one that I was able to capture on camera..
You can have get your own Amazing Science Video by visiting ScienceandMath.com. The Volume 1 DVD is currently priced at $19.95. You can also check out what other Crew Members think about this product by clicking on the Crew link above.
*Disclaimer: My family was given this product free of charge to use and form our own opinion of and share with our readers. The thoughts and opinions expressed about this item are strictly opinions of myself or my children.*