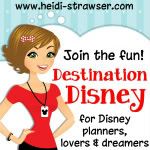 Hmm, I had to think on this for a few... I can't remember the names of any, and truthfully, we are not big restaurant people...
Anyways, here are a couple of my favorite places to eat when we go to Disney ~
Rainforest Cafe - you have to eat there! A little pricey, but a great atmosphere and great food!!
And.. the name just left me - it is the fast food joint in Tomorrow Land - we have really enjoyed the food from there.
And last place I can think of that we ate at and I enjoyed was the restaurant at Epcot in Mexico.
The guys all think the turkey legs on Hollywood Blvd. at Hollywood Studios are the bomb... but BLECH!!!