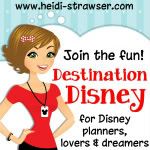 This week, I fail. The few times we have been, we always go to the parks, so I don't have seven things outside the park to do.
The one thing I know to do ~ Downtown Disney! Wait, I may can get seven things at Downtown Disney.. let me try!
1. Lego store
2. Sprinkler Spot (what's that called anyways?)
3. World of Disney
4. Rainforest Cafe
Nope, only four.. here are a couple of other places we have been outside the parks
4. Celebration Hospital
5. Shades of Green lobby
Hop on over to Heidi's blog, check out all the other blogs that have linked and see what their top seven were!