Since we didn't have our math program yet - because it hasn't even been ordered - I was glad to be chosen to review AIMS Area Formulas for Parallelograms, Triangles and Trapezoids!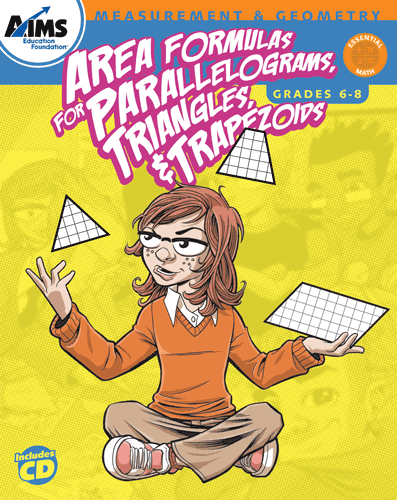 When we first got the book, the kiddos were super excited... wanna know why?
COMICS!
Yes, each lesson has a comic that goes along with it! There are seven lessons - divided up into fifteen days. I don't really think we did it by the days, I think we just did each lesson on a day. We didn't do a lesson each day, so it did take us a couple of weeks to get through it all.
This particular AIMS program was very hands on and interactive ... cutting, measuring with a measuring pad, lessons on the computer & then the comics... they were in the book, but they are also a slide show on the disc. Not only did my kiddos thoroughly enjoy doing this math workbook, but they also learned a few of the basic formulas.
Area Formulas workbook is available for $9.95 on the AIMS website.
You can also read and find out what other's think of AIMS Math Products by clicking the Crew Banner below:

**DISCLAIMER** this product was given to me FREE of charge in exchange for my honest review. This review is the honest opinion of my self and my children.