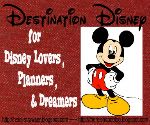 This week, we're going to continue with the character theme.
I want you to share
what you do with


CHARACTER AUTOGRAPHS
Sure, I know the parks sell character autograph books. And, of course, there's absolutely NOTHING WRONG with these books – so if this is what you do with your autographs, please do share (and post pictures!) BUT, I know some of you are creative and have come up with various other methods of keeping and/or displaying those autographs – and we want to hear about them!
The first time the kiddos went in 2006, they just got one of the simple park books and had them sign in random places in there. and that small album is put with their big scrapbook of that year.
When we went in June of 2008, my sister took white pillowcases and drew a Mickey head outline on it (added a bow for Samantha's) and put each of the kiddos names and year on the end of the case (it doesn't look like I have a pic of these...not sure why). Anyways, they all carried folded up pillowcases around that whole week and the characters signed those. Samantha and Riley use their's, Emily's is folded and put with in a page in her scrapbook. For our family book, I took blank index cards and had them sign those - easy to keep up with and perfect for when it came time to scrap!!
Returning in October of 2008, we bought a small park book again and I was very careful about what pages we had them sign on - leaving places in between and making sure they stayed in order - when we got home, I used those for the kiddos scrapbook of that trip - printed off pictures of them getting the autographs and with the characters.
The pillow cases was my absolute favorite thing, but if we go back, we will do a park book (or something similar) so I can scrap it the way I did their October 09 books.